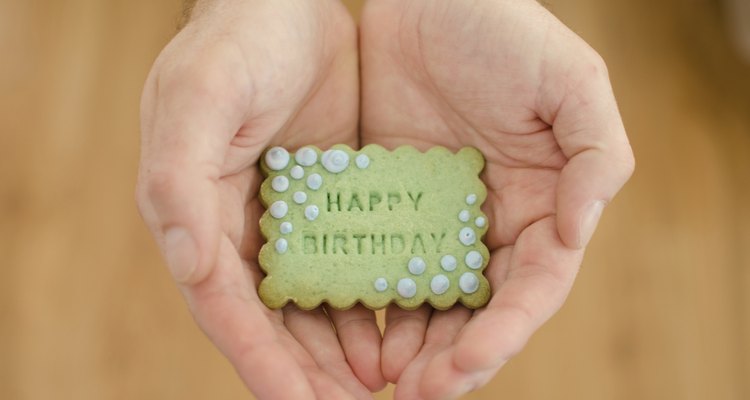 AudreySmiths/iStock/Getty Images
Your husband is turning a year older and you want to make it a memorable day for him. You don't have to go all out like you've done for his previous birthdays with expensive parties and presents. Instead, skip stressing yourself and plan simpler ways, such as making homemade gifts, that will still show him that he's special to you.
Day of Surprises
Capture the shock on your husband's face when you do something for him that he wasn't anticipating. Start the day by preparing his favorite breakfast and serve him breakfast in bed. Then, call a radio station to dedicate a song to him. Tuck away a present he's been eyeing, such as a tablet computer, somewhere in your home and let him embark on a short scavenger hunt. Place rose petals around your home leading to where the gift is hidden. Additionally, plan a surprise birthday gathering for him with a few of his close friends and family members. Decorate the living room, bake a homemade cake, turn off the lights and have everyone pop out to surprise him when he gets off from work.
Yes, Your Highness!
Since it's the day of his birth, crown him king for a day and be at his beck and call to give him the royal treatment. Allow him to create a list of things he would like to do, and do your best to fulfill them. Even if it's something you dread, don't protest -- and let him go see his favorite band live or be in charge of selecting the movie at the theater. Spend the afternoon cheering on his favorite team at the stadium. Cater to him with a candlelight dinner at home, and prepare and serve his favorite meal and a homemade birthday cake. Comfort him before bedtime by giving him a back massage with scented oils and step into a bubble bath together.
Creative Gifts Galore
Think outside of the box this year and use simple materials to wow your husband with non-traditional birthday presents. Get crafty and turn an ordinary laundry basket into a gift by filling it with all his favorite things, such as snacks, magazines and movies. Place the items inside the basket, wrap with cellophane and secure with a ribbon. Replenish his worn clothing accessories by creating a sock or tie bouquet. Simply roll the ties or socks up and secure them with a safety pin. Place each of the socks or ties on wooden skewers so they resemble flowers and put them in a vase. Alternatively, give him a collection of gifts pertaining to the age he's turning, such as 30 candy bars for his 30th birthday.
Short Romantic Getaways
Whether his birthday falls on the weekend or he's taking off for the day, skip town and plan an inexpensive mini-vacation for the both of you. Head to a nearby beach and stroll the boardwalk hand and hand. Dip your feet in the ocean and watch the sunset as you share a kiss. Or, go to a local campsite or cabin and tuck away in the woods. Cuddle up under the night sky to watch the twinkling stars. Alternatively, stay in town and see what your city has to offer. Explore downtown, visit a museum, catch a Broadway show and retire for the evening in a place away from home. Order room service to bring his birthday dessert and a bottle of champagne.
Writer Bio
Wannikki Taylor is a professional writer with a Bachelors of Arts in journalism from Temple University. She serves as a children's columnist and covers family entertainment for several print and online publications. She specializes in games, crafts and party planning ideas for kids and their families.
Photo Credits
AudreySmiths/iStock/Getty Images