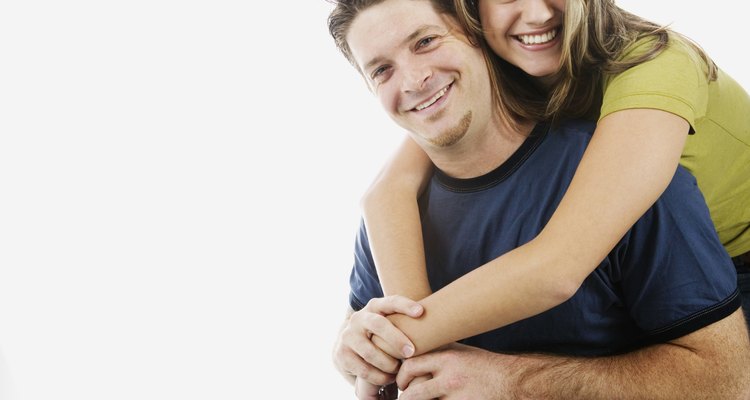 Brand X Pictures/Brand X Pictures/Getty Images
Going on dates with your husband is just as important as it was when you were dating, as it helps keep the romantic fire and excitement going in your relationship. If your husband is always the one taking you out on special dates, turn the tables and take him out for a change. Plan a date that includes activities that he enjoys, whether it's listening to music, watching a sporting event or just relaxing somewhere with a view. Surprise him with a romantic and creative date proposal that he can't refuse.
Flowers and Gift Baskets
Your husband will likely be floored to get flowers from you out of the blue at work, especially if he's the one who typically sends you flowers. If you think he won't like the flowers, you could send him a gift basket packed with his favorite goodies. Include a note that gives him a compliment and invites him out for a special date with you that night. For example, the note might read, "Thanks for making me breakfast every morning, Love. Let me treat you to dinner tonight!"
Romantic Scenes
Hit your guy with a romantic date proposal that he can't refuse. Keep in mind that romance isn't about grand gestures and expensive gifts, notes matchmaker and dating coach Rachel Greenwald in a More.com article. If you want to take your husband to a romantic music event, like an intimate jazz concert, set up your living room with candles and play the musician's music in the background. When hubby gets home, tell him that you got the tickets and would love for him to be your date. Alternatively, if you're planning a romantic date night at home, trail chocolate kisses or rose petals from the front door to where you set up your romantic date. Wear a sexy outfit he loves -- and you likely won't need to even ask him to spend the evening with you.
Leaving Notes
Cut a sticky note into the shape of a heart and write a short note asking him to go on a date with you, such as to see a movie or try a new restaurant. Place the sticky note somewhere where he will see it easily, such as the steering wheel of his car. Another idea is to leave him notes with clues to a special date night for the two of you. For example, if you plan to take him on a sunset sailboat ride, leave various clue-style invitations on sticky notes around the house that say things like "Sail away with me?" and "Be my skipper tonight?"
Date-related Gifts
Surprise your guy with an invitation that includes a gift, related to the date. For example, if you're planning a mountain-climbing date for your outdoor-loving husband, gift-wrap a shoebox with new climbing shoes. The gift tag might say something sweet like "We already climbed many mountains together, will you climb one more with me tomorrow?" Other date gift ideas might include a toy car if you are taking him to a NASCAR racing event, a jersey for a date to see his favorite sports team play, or a stuffed animal for a date to a county fair.
References
Resources
Writer Bio
Based in Los Angeles, Zora Hughes has been writing travel, parenting, cooking and relationship articles since 2010. Her work includes writing city profiles for Groupon. She also writes screenplays and won the S. Randolph Playwriting Award in 2004. She holds a Bachelor of Arts in television writing/producing and a Master of Arts Management in entertainment media management, both from Columbia College.
Photo Credits
Brand X Pictures/Brand X Pictures/Getty Images