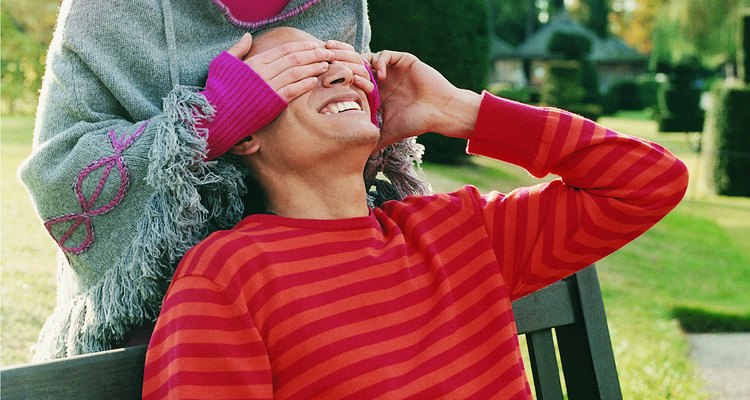 Digital Vision./Digital Vision/Getty Images
Receiving a cute surprise from your boyfriend every now and then inspires an amazing feeling that reconfirms everything you love about him. Give your guy that same feeling by surprising him every once in a while with items or activities that you know he will appreciate.
Romantic Surprises
Sneak out of bed early to make a special breakfast for your guy and then serve it to him in bed. Cut the toast into heart shapes and include a single rose in a small glass on the serving tray. Leave heart-shaped notes in random places for him to find with cute messages, such as "have a great day!" and "miss you already!" Place the notes in his pants pockets, glasses case, wallet and other places he frequently checks. For another sweet surprise, wear a sexy outfit or lingerie that he loves and set a romantic scene in the living room for when he gets home.
Event Ticket Surprise
One of the best surprises you could give a sports fanatic boyfriend is tickets to see his favorite team play, earning you major cool-girlfriend points. Go with him to see the game and show your enthusiasm or let him go with a buddy. If he is into music, concert tickets to see his favorite band play would be perfect. Be willing to splurge on good seats for your guy to make the moment extra special.
Supportive Surprises
Give your guy a surprise that shows your support for his venture, career or personal goals. If your guy is training for a marathon, for example, you might surprise him with a gift basket containing top-of-the-line shorts, a running jacket, and an armband music player holder. The note on the basket might read "For the hottest runner this marathon has ever seen!" For the guy who is trying to start up his own tech-based business, you could surprise him with some pricey software he needs. Present the software in a gift basket with his favorite snacks, energy drinks and an encouraging note for the late nights he spends working on building the business.
Nostalgic Surprises
Surprise your guy with something or someone special from his childhood. For example, if your guy grew up frequenting a famous popcorn shop in his hometown, see if it has a website from which you can order that popcorn and have it delivered to him. If there is a type of candy he grew up enjoying that isn't sold in stores anymore, check with the many retro candy companies online. For an extra special occasion, fly out his best friend or a family member he is close to but hasn't seen in years. You can guarantee it'll be a sweet surprise he'll never forget.
References
Writer Bio
Based in Los Angeles, Zora Hughes has been writing travel, parenting, cooking and relationship articles since 2010. Her work includes writing city profiles for Groupon. She also writes screenplays and won the S. Randolph Playwriting Award in 2004. She holds a Bachelor of Arts in television writing/producing and a Master of Arts Management in entertainment media management, both from Columbia College.
Photo Credits
Digital Vision./Digital Vision/Getty Images