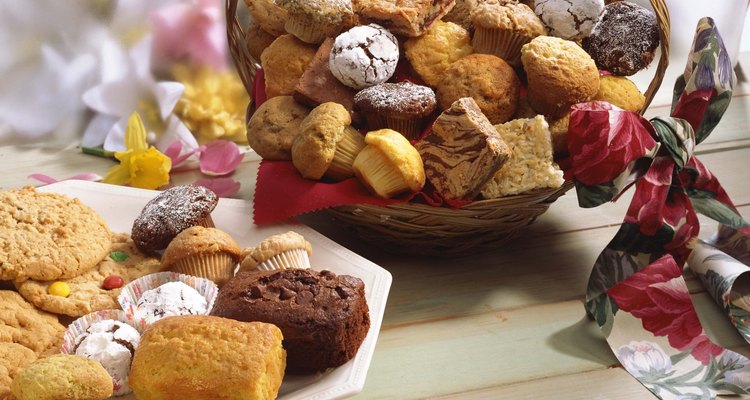 Jupiterimages/Stockbyte/Getty Images
Sending a gift to your husband's workplace can be a simple way to express your love. Surprise him at work to let him know that he is on your mind even when he is not in your presence. What can you send a guy at work? Items that can easily be placed on his desk are ideal, as are gifts that are practical and not too risque or embarrassing since his colleagues may see the gift.
Gifts to Snack On
Since a traditional rose bouquet may not be an option for your guy, order a bouquet of treats that resemble flowers. A husband who has a sweet tooth can enjoy a candy bar, cookie or brownie bouquet. If your husband also has a savory tooth, consider a chocolate-dipped bacon bouquet. Send a health-conscious guy a fruit bouquet with several kinds of fruit. Have a personalized note attached to the bouquet with a message from you.
Themed Gift Baskets
Cater to your husband's interests by sending him a basket filled with items related to his favorite hobbies. Find items to create the gift basket yourself and get someone to deliver it. Taking time to make a gift for your sweetie is more personal than finding something in the store. A movie-buff guy will appreciate a basket including flavored popcorn, bottled sodas and a few DVDs he can enjoy with you after work. Alternatively, give him a sports-themed basket --golf-related for an avid golfer or football-related for a football fanatic.
Mobile Gift Certificates
Your husband probably checks his cellphone messages while at work. Surprise him by texting a gift card to his phone. Perhaps you can give him a cafe gift card to grab a snack or cup of coffee during his break. You can also turn the gift card into a date night. Gift cards offer a possible way for couples to spend time with each other. Give him a movie ticket and meet him after work to catch a movie. Text a restaurant gift certificate and enjoy dinner together after hours.
Clean Air
A plant may serve as a more masculine gift than flowers. Have a potted plant delivered to his job to help him relax from any work-related stress. Plants can brighten up a space, purify the air and create a more peaceful ambiance in any room. A Bamboo Palm, Golden Pothos or Peace Lily would look great on his desk and serve as a continued reminder of your love.
References
Writer Bio
Wannikki Taylor is a professional writer with a Bachelors of Arts in journalism from Temple University. She serves as a children's columnist and covers family entertainment for several print and online publications. She specializes in games, crafts and party planning ideas for kids and their families.
Photo Credits
Jupiterimages/Stockbyte/Getty Images