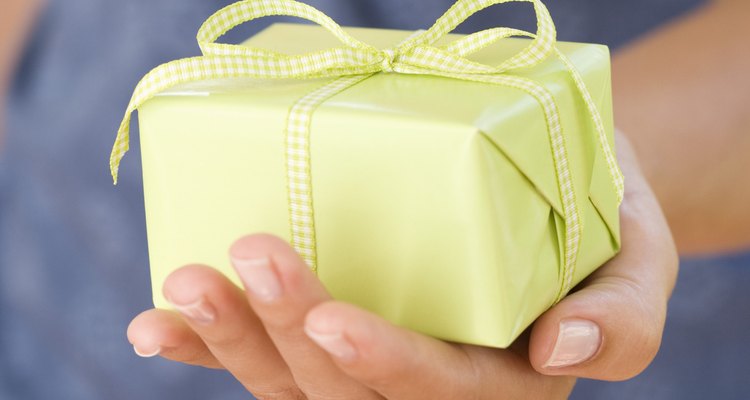 Jupiterimages/Polka Dot/Getty Images
Selecting a birthday gift for a sister-in-law can be tricky: some people have a close relationship with their sisters-in-law and some do not. If you need help coming up with ideas, ask your spouse, her spouse or another close family member for advice. Utilize social media - if applicable - to get a sense of her hobbies or passions. Whatever gift you choose for your sister-in-law, make it a thoughtful one.
Tune in to Her Hobbies
The best gifts are personalized to the recipient's interests. If your sister-in-law enjoy cooking, for example, consider getting her the latest gadget from a kitchen store or some unusual spices. If she has a collection of some kind, look for a rare find to add to it. People interested in gardening or the outdoors may appreciate an attractive hat with built-in sun protection. Put some thought into the gift and, just to be safe, include a gift receipt.
The Gift of Relaxation
Let's face it, we could all use some pampering from time to time. Give your sister-in-law a break with a certificate for a spa treatment, manicure or pedicure. Consider a custom gift basket with bubble bath, lotion, candles and a bottle of wine. Think about what your sister-in-law enjoys to do for relaxation; if she likes to read, consider a gift card to a bookstore along with her favorite snack.
Get Her Out and About
Your sister-in-law may enjoy an outing. Consider a gift certificate to her favorite restaurant or tickets to an upcoming concert or event that might interest her.If your sister-in-law is a movie lover, treat her to a night at the cinema, complete with candy and popcorn. To make the gift even more personal, escort her yourself and make some new family memories. Experiences are memorable.
Go Traditional
When all else fails, go with a traditional gift. Flowers are convenient and a great way to brighten her day. Get creative; many online retailers will deliver much more than flowers and balloons. Consider an arrangement made of fresh fruit or a decorative cookie bouquet. Gift baskets can be anything from high-end gourmet to fun and whimsical - browse online until you find something that will strike your sister-in-law's fancy.
References
Writer Bio
Emily DeYoung is a staff writer for "Touched By Cancer Magazine." Formerly an instructor and counselor in higher education, she holds a master's degree in counselor education. DeYoung is also a certified interpreter of the Myers-Briggs Type Indicator.
Photo Credits
Jupiterimages/Polka Dot/Getty Images