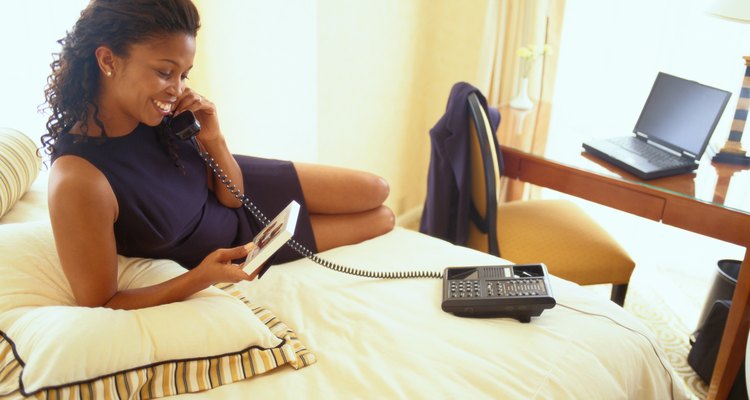 Ryan McVay/Photodisc/Getty Images
Whether you are celebrating your girlfriend's birthday, an anniversary or just want to show her how much you care, there's no reason to let distance interfere with your heartfelt intentions. After all of your telephone and computer conversations, use all that you know about your girlfriend to send her a one-of-a-kind gift that shows you've really been paying attention.
Sentimental Gifts
Send an old-fashioned telegram with a special message of love. Have a bouquet delivered to her at work so she can show off the gift to everyone at the office. If flowers fade too fast, have one dipped in gold to preserve it forever, just like your love. Find a charm bracelet and a charm or two -- such as a miniature phone or computer or a charm engraved with the word "patience." Show her that you've been paying attention with a care package full of her favorite things. Fill the box with her favorite chocolate, cookies and tea, a copy of her favorite movie, novel and music disc. Include seeds from her favorite type of flower so she can plant them and watch the blooms grow and blossom.
Photo Gifts
Even though you are miles apart, you can let your girlfriend fall asleep to your picture every night with a pillowcase printed with your photo. Alternatively, pick up a pair of pillowcases -- one for her and one for you -- and have both of your initials or photos printed onto each one. You can assemble a photo or memory collage, too. If you don't have any photos of the two of you together, arrange one of yours next to a picture of her. Include keepsakes, such as airplane ticket stubs. Create a calendar with a picture of you for each month. Print all of your email communications and bind them together. Make a hand-decorated cover and send her your relationship memoirs.
Wild Rides
Surprise your long-distance girlfriend with a one-of-a-kind experience she can enjoy while thinking about your love. Send her a gift card for a day at a spa in her area. If she has a need for speed, send her a gift certificate for an experience on a race course or a luxury, exotic car rental. You can surprise her with a skydiving experience. Treat a health conscious girlfriend to an in-home personal fitness and lifestyle training session. If she loves to shop, put a gift card in the mail with particular instructions to make the spree a little more personal. For example, if she's been complaining about her tattered comforter, encourage her to pick out a brand new bedding set.
Help Her Relax
If you know your girlfriend has been busy, help to lighten her load. Arrange maid service to tidy her home or a landscaping service to clean her yard. If she enjoys fine dining in the comfort of her own home, arrange a professional chef to prepare a four-course meal in her kitchen. You can help your girlfriend unwind by arranging a massage, a facial or a manicure and pedicure from a mobile spa service. If she loves to smile for the camera, book a private photography session so she'll have plenty of new photos for you.
References
Resources
Long Distance Relationships: The Complete Guide; Gregory Guldner; 2003
The Long-Distance Relationship Survival Guide; Chris Bell; 2006
Writer Bio
Rosenya Faith has been working with children since the age of 16 as a swimming instructor and dance instructor. For more than 14 years she has worked as a recreation and skill development leader, an early childhood educator and a teaching assistant, working in elementary schools and with special needs children between 4 and 11 years of age.
Photo Credits
Ryan McVay/Photodisc/Getty Images