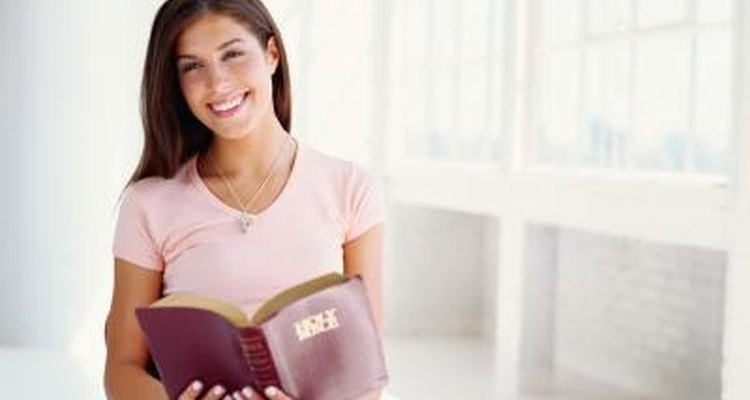 Stockbyte/Stockbyte/Getty Images
The key to making any gift choice a hit with your girlfriend is giving her something that shows you are paying attention to her. For a girl who is head over heels for Jesus, find gifts that encourage her in her faith and are a positive reinforcement to her goals in general. As a rule of thumb, avoid gifts that would conflict with Biblical moral standards.
Clothing
Several clothing companies make items featuring Christian themes and scriptures. Make sure your first focus is getting something she will feel comfortable wearing, as you already know she will appreciate scripture. If you need to find her size without asking her, use her friends as a resource. They can get the information you need without spoiling the surprise. Also, t-shirts and hoodies are great options as you have some leeway with the sizing.
Pampering
Every woman appreciates a day of pampering, whether it is a manicure, pedicure, facial, massage or a spa getaway. These ideas will encourage her to relax and know she is being taken care of. Choose scriptures that remind her how much Jesus cares for her, such as Matthew 6:31-32. Some creative ways to include the scriptures with the gift are arranging for it to be given to her at her appointment, having it delivered separately with flowers or using technology to send her a voice note, video or link to the scripture on the web.
Customized Gifts
If you're not a Shakespeare with words, Christian bookstores are a great place to find gifts that already have messages on them. If you would prefer to create and personalize your own message to her, there are several options for engraving and printing. Have a photo or design printed on a poster or canvas and choose a frame from an arts and crafts store. Also, cell phone covers are practical and easy to customize.
Jewelry
You can hardly go wrong with jewelry, especially if it has a meaningful message or design. Determine what she would like by observing what she already wears. You do not want to get her earrings if she does not have her ears pierced, for example. It is always worth the investment to get jewelry made from high quality materials, like sterling silver and gold, to avoid allergic reactions. If you choose fine jewelry, find out if they offer free cleanings and what the repair and replacement policies are.
Devotional, Study Bible, Book
A book can be perfect if she is a fan of a particular author. You can also use the internet or store staff for recommendations. Joyce Meyers and T.D. Jakes, for example, are known for their encouraging messages for women. Some of the most popular study bibles are those with themes that help focus your studies, like the Life Application or One Year Bible. There are also several that cater to specific interests with features like maps and Greek or Hebrew concordances.
References
Resources
Writer Bio
Vienna Pearl began her pursuit of writing in 2001 as the editor-in-chief of "Smoke Signals." She is a MAC Cosmetics makeup artist and provides an array of fashion and beauty services through her business. She studied journalism at Middle Tennessee State University and is trained in dance and Pilates.
Photo Credits
Stockbyte/Stockbyte/Getty Images