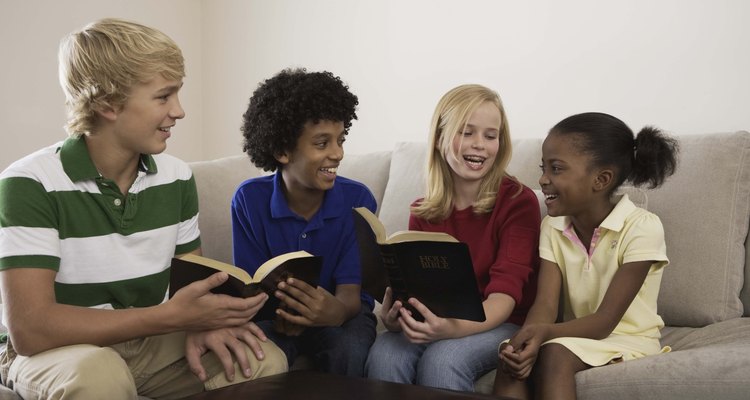 Jupiterimages/Brand X Pictures/Getty Images
While any baptism is a time for celebration, the baptism of an 8-year-old is an opportunity to give a gift that will have deeper meaning than one you would typically give to an infant. By the time a child is 8 years old, she has an understanding of the ceremony she is taking part in and will appreciate gifts with meaning tied to her christening. There are a variety of gifts which would be suitable for the baptism of an older child.
Jewelry
While a cross necklace is the most common choice in jewelry for a baptism gift, there are many other pieces of jewelry which will help her remember the commitment she has made to God. If you are her parent, you may consider having a purity ring ceremony in conjunction with the baptism. Other options include charm bracelets, prayer beads or a pair of cross earrings. One benefit to purchasing a charm bracelet is the ability to give her charms for future occasions, allowing her to have a collection of memories in a piece of jewelry.
Bible
There are many Bibles produced today that offer independent studies developed for children. Rather than choosing a Bible that designed for young children, you may want to buy a Bible geared to preteens, because it will guide her to passages which relate to situations she may experience in life. If you are unsure which translation of the Bible is most suited for her, ask the pastor of her church what version they use for their Christian education programs. By doing this, you will make sure she does not get confused by the different wording in various translations.
Camp Sponsorship
Ask your church if there are camps available for 8-year-old children. If there are, you may consider sponsoring her to attend a Bible camp the summer following her baptism. This will give her the opportunity to continue growing in her faith and she will meet friends who share the same beliefs and values. If there are no camp options available, ask her parents and the church if there are any youth mission opportunities that she may enjoy taking part in and give her partial sponsorship for the mission trip.
Handmade Gifts
Using a journal notebook, you can create a personalized gift of prayers or verses to pass on as a baptism gift. If you have favorite verses, write them along the top of the journal pages and leave the rest of the page blank for her to add her thoughts or more verses. You can also create a collection of prayers for her. If you are not able to write the prayers, search the internet for prayers pertaining to specific situations in life, print them and have them bound at your local copy shop.
References
Writer Bio
Heather Heinzer is a freelance writer from Wisconsin. She has been writing professionally since 2008 and has been featured in "Parents for Parents" magazine. She is planning to return to the University of Wisconsin-Rock County to obtain a degree in communications.
Photo Credits
Jupiterimages/Brand X Pictures/Getty Images