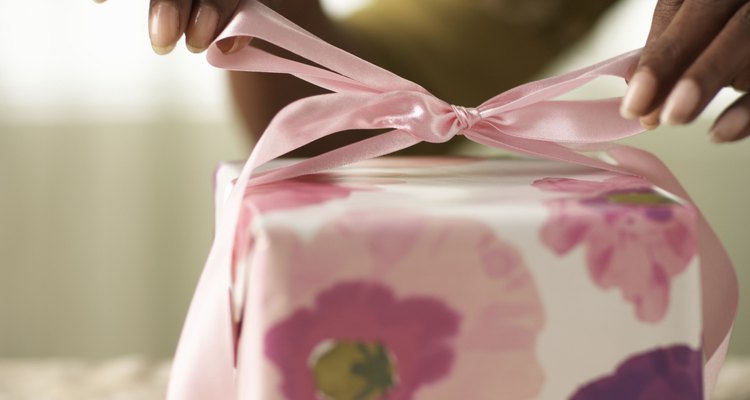 Thomas Northcut/Photodisc/Getty Images
The woman who has taught you so much through her words of wisdom and life experiences has a milestone birthday approaching, so why not honor your grandmother's 80th birthday by gifting her with a meaningful present. Consider items that will reflect her personality and interests while making her feel proud to be an octogenarian when selecting the appropriate birthday gift.
Gifts that Pamper
Though your grandmother is in her golden years, she will still want to look her best. Treat her to a day of pampering to make her feel like a queen. There will never be an age when spa treatments stop feeling good, explains gift expert Dana Holmes in her article, "80th Birthday Gifts That Won't Gather Dust." Present her with a spa gift certificate for pampering services. Let her book her own appointment and be in control of the type of treatments she wishes to receive -- from massages to pedicures. Alternatively, give her a gift certificate to the hair salon to celebrate her birthday with a new haircut. Give her suggestions on hair styles that will flatter her face.
Year of Birth Gifts
Gifts that honor your grandmother's birth date or year can be a fitting present for her to hang up or put on display, explains Holmes. Consider gifting her with a framed front page newspaper reprint to give her important historical information about the day she was born. Or, get the newspaper reprint in jigsaw puzzle form for your grandma to complete as an leisure activity with you and then frame it when it's complete. Alternatively, give her a DVD featuring historical data about her birth year or a set of coins in different values that were all minted in her birth year.
New Memory Gifts
Your grandmother may appreciate an experiential gift to create new memories with you. Experiences have the power to stay longer in our memory than material things do and are more meaningful, explains psychologist Juliana Brienes, Ph.D. in her article, "Four Ways to Buy Happiness." Take her on a birthday outing. Surprise her with theater tickets and go see a classic Broadway show or play together, such as "The Wizard of Oz." Perhaps you could purchase passes to a local vintage doll or toy museum to let her reminisce about her favorite toys and enjoy pointing them out to you. Or, give her the ultimate surprise by paying all her expenses for a day trip or vacation and accompany her to a city or country she has always desired to visit.
Hobby Related Gifts
Engaging in a hobby is probably your grandmother's favorite pastime. Ask yourself what the recipient's favorite hobby is and make a gift selection on that basis, says psychologist Susan Krauss Whitbourne, Ph.D., writing for "Psychology Today." If she enjoys gardening, give her a gardening basket filled with new gardening tools, a watering can and work gloves. A grandmother who loves to sew will appreciate new material for her next sewing project. For a grandmother who loves to cook, gift her with a personalized apron with a family photo on the front. Alternatively, if she is interested in pursuing a new hobby, such as dancing, pay for her beginner class sessions. After all, it's never to late to learn something new.
References
Writer Bio
Wannikki Taylor is a professional writer with a Bachelors of Arts in journalism from Temple University. She serves as a children's columnist and covers family entertainment for several print and online publications. She specializes in games, crafts and party planning ideas for kids and their families.
Photo Credits
Thomas Northcut/Photodisc/Getty Images