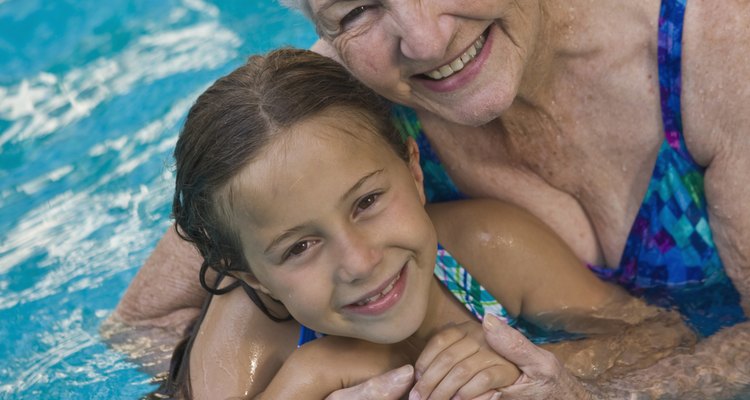 Comstock Images/Comstock/Getty Images
Finding meaningful ways to spend time with your grandma, two generations separated from you, can seem challenging, but making a little effort can lead to a lot of fun and mutual benefits for you both. Even though grandparents grow up in a different era and have many different experiences, basic human nature is the same. Loving and laughing spans all generations.
Share Your Life
Include your grandma on short outings, even a brief trip to the grocery store or the department store to buy socks for the kids. Driving time is more fun when you have someone to talk with, and the nature of the errand will establish parameters for the time you spend together. If you have children, invite your grandma to join you for recreational activities. Depending upon the length of time you plan to spend at the activity, your grandma might want to accompany you or meet you there for a shorter time. Your grandma will enjoy the opportunity to get to know the up-and-coming generation and share in their excitement for life.
Share Her Life
Your grandma grew up in an era very different from yours. Ask your grandmother questions about her childhood, places she lived, work she has done and interesting places and people she has known. Record your grandma's stories and transcribe them for her. Create a life book with your grandmother by adding scrapbook items and photographs along with the stories. Creation of the book will give your grandmother an opportunity to share important remembrances from the past, helping her find meaning in the life she lived and the life she has yet to live. Make a video slide show of her photographs, celebrating her life.
Play Games
Playing games is fun and helps to keep your mind sharp. Find out what types of games your grandma enjoys playing and set aside a little time in your schedule to engage in playing games with her. Cards, board games or even video games are all possibilities, as today's grandmothers often have excellent computer skills.
Do Hobbies
Help your grandmother plant a spring garden, pot up some container plants or make a visit to an arboretum or public garden if you enjoy a mutual interest in growing plants. Ask your grandmother to help you make one of her recipes that you have always enjoyed. You might learn a secret or two about what makes the recipe special, you'll have a favorite food to eat when you're finished -- and best of all -- you'll have more grandma memories. Ask your grandma about her hobbies. She might have a fabulous coin collection, autographed books she treasures or a scrapbook of your drawings and other memorabilia from your childhood days. Your grandma's many years of life's activities can be a lot of fun for you both to share.
Resources
Writer Bio
For Judy Kilpatrick, gardening is the best mental health therapy of all. Combining her interests in both of these fields, Kilpatrick is a professional flower grower and a practicing, licensed mental health therapist. A graduate of East Carolina University, Kilpatrick writes for national and regional publications.
Photo Credits
Comstock Images/Comstock/Getty Images