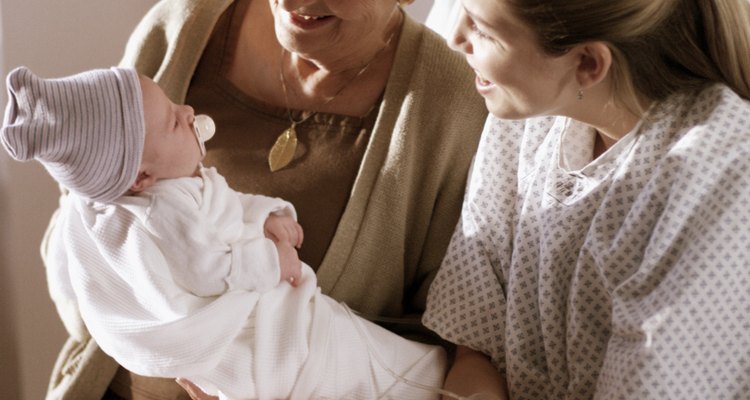 Photodisc/Photodisc/Getty Images
When a baby is born, it seems like everyone receives a gift. The new dad gives the new mom a "push gift"; friends and family bring gifts for the new baby; gifts are given to the new big brother or big sister. Don't forget the new grandma! Give her a gift that shows how important her role will be, especially if the new baby is her first grandchild.
Keepsake Gifts
Give the new grandmother a gift that will remind her of the birth of her first grandchild. If the birth is near the holidays, consider an ornament with the date and a cute saying on the side, such as "Grandma's first Christmas." Or take the baby's hand or footprint and put it in a frame. Because this is the first grandchild, a drawing of the family tree that can be added to over time is a special reminder of the growing family. If the baby is a girl, a piece of jewelry that could be worn by grandma and passed down to the granddaughter is a wonderful keepsake and memento for them both.
Activity Gifts
Researchers at the University of Oxford have found that there is a positive association between grandparents' active involvement and child well-being, and that grandchildren value having their grandparents in their lives. When you are looking for the perfect gift for a new grandmother, consider items that will strengthen the bond between grandparent and grandchild. These might include items that could be kept at grandma's house for when the grandchild visits, such as books and toys; or, if grandma lives far away from her grandchildren, a webcam for video chats. An active grandmother might enjoy special time with her grandchild, like attending toddler gym or music class together.
Show-and-Tell Gifts
A proud grandmother will want to show off pictures of her new grandchild, so photos are welcome gifts. Add a twist by making a photo book or photo calendar, or give her a mug with the baby's photo or a photo t-shirt that says "New Grandma!" If you want to encourage the new grandmother to take photos herself, surprise her with a camera and printer combo so she can easily snap photos and print them at home.
Caregiver Gifts
If the new grandma is going to be helping the new mother with child rearing or caregiving, thoughtful gifts might closely resemble those given to the new parents. Find a stylish diaper bag, books on being a grandparent or "I love my grandma" onesies for the newborn.
References
Writer Bio
MaryBeth Augusta began writing in 2002 for her college newspaper, "The Troubadour." She has written legal briefs and psychological research articles, covering topics such as international human rights and gender roles. Augusta holds a Bachelor of Science in psychology and a Juris Doctor.
Photo Credits
Photodisc/Photodisc/Getty Images