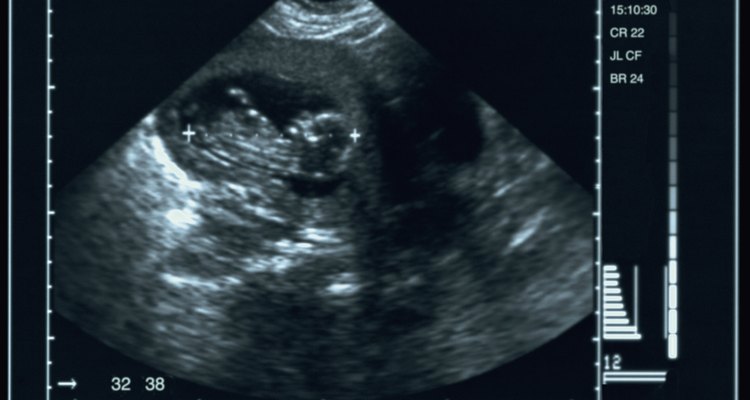 Stockbyte/Stockbyte/Getty Images
You stand there holding the over-the-counter pregnancy test and see the line form. You're pregnant. It takes a minute or two to sink in, and then thoughts begin to fly through your head. This isn't your first pregnancy, so you know how things will begin to unfold. You need to share the news, and, of course, your husband is high on the list. Be creative when you tell him you're pregnant again.
Leaving Dad Hints
Many people don't catch hints easily. But it's worth a shot to see how quickly your husband catches on to the secret before you are ready to blurt out the news. Draw a circle on the front of a T-shirt with a small dot in the center and a conversation bubble that says, "Hi, Dad!" and wear it to bed or dinner. Have your child wear a shirt that says, "I'm a Big Brother" or "I'm a Big Sister." Text your husband to ask if he thinks Grandma would like another grandchild.
Gifts for Dad
If you know that your husband would be thrilled to have another child, gift wrap the pregnancy test and present it to him at dinner or on a date. Make him a T-shirt he can wear that states proudly, "Father in Waiting … Again!" and give it to him for a surprise. If your doctor diagnosed the pregnancy and made a sonogram video to verify the due date, give your husband the DVD in a gift-wrapped jewel case and ask him if you can watch the movie together.
Let's Celebrate!
Every baby deserves a special celebration at some point in the pregnancy. So celebrate your news. Bring home a balloon bouquet with one balloon that says, "It's a Baby!" or "We're Pregnant!" and place the bouquet near the door where your husband usually enters the house or make them the centerpiece on the table with a special dinner. Circle the likely conception date on the calendar and place the calendar near his spot at the table. Decorate a cake with baby items such as diaper pins and pacifiers and add as many candles as the unborn baby is in weeks or months.
Making Room
With a second pregnancy, you probably have many baby items you will reuse. Pull out a basket or box loaded with the items and ask your husband if he thinks there is room to put them where you can get to them in your child's room or if your husband's car can handle two car seats. If your child is still in the crib, start the conversation about the new baby by asking your hubby about helping to transition your child into a regular bed and whether a crib and bed will fit in your child's room or if you will need to turn another bedroom into a nursery.
References
Writer Bio
Rev. Kathryn Rateliff Barr has taught birth, parenting, vaccinations and alternative medicine classes since 1994. She is a pastoral family counselor and has parented birth, step, adopted and foster children. She holds bachelor's degrees in English and history from Centenary College of Louisiana. Studies include midwifery, naturopathy and other alternative therapies.
Photo Credits
Stockbyte/Stockbyte/Getty Images