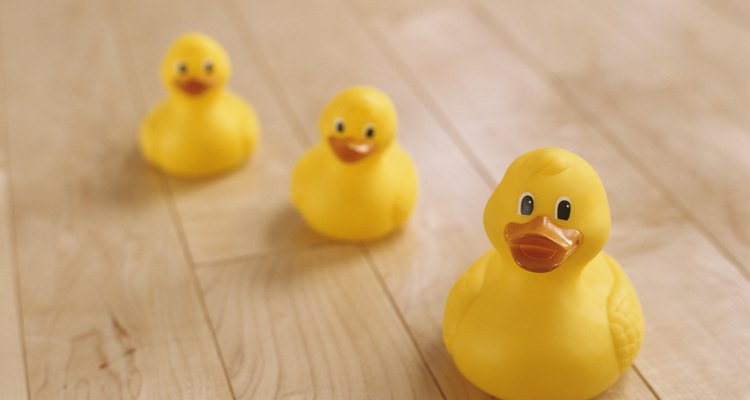 Stockbyte/Stockbyte/Getty Images
When the parents do not yet know which gender their baby will be, you have to get creative with baby shower themes and invitation wording. So many showers are focused around the gender of the baby and the colors and types of items the baby will need. Choose a gender-neutral theme and wording that makes sure guests know not to buy for a boy or girl.
Heading
Choose a heading that highlights the name of the mother and the fact that she is expecting a baby. The omission of the baby's gender in the heading provides the first clue that the gender is unknown. For example, you could say, "Join us in celebrating the upcoming birth of Jenny's baby!" Another option is, "Jenny's expecting a new arrival, so come celebrate before the big day!"
Clever Rhymes
A rhyme is one of the best ways to let guests know that the expectant mother does not know the gender of her baby yet. This rhyme could be on the front of a folded card or take the place of the heading. Some ideas from the Cutest Baby Shower Ideas website include, "Ten little fingers, ten little toes/ Boy or girl, no one knows"; "Baby (last name) is almost due/ We still don't know if it's pink or blue!"; and "A baby is coming, cute as can be/ Boy or girl, we'll just have to see!"
Gift Registry
One of the trickiest parts of a gender-neutral baby shower is that guests cannot bring gifts for a specific gender. Mention where the expectant mother is registered for gifts, if applicable. She will presumably have registered for gifts in gender-neutral colors. You can also include a note with the gender-neutral nursery colors or theme so guests can coordinate with that. For example, say, "The nursery will be decorated in a storybook theme" or "Mint and chocolate are the nursery colors."
Other Information
Include the baby shower time, date, location and RSVP information on the invitation. If you need to refer to the baby at any time, just call it "Baby (last name)" or "the little one" instead of using gender pronouns. Print the invitation on yellow or green paper and use gender-neutral images, such as rattles, bottles, diaper pins, rubber ducks, stuffed bears or strollers.