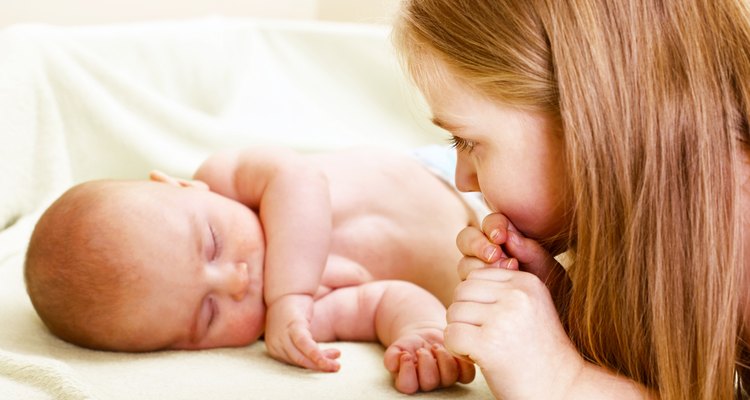 Marina Dyakonova/iStock/Getty Images
Bringing a new baby home can be quite a transition for an older sister. She may feel left out of all the excitement over the new baby, or feel like she won't get the attention that she used to get from her parents. A big sister shower, which makes the older sibling an essential part of the shower festivities, will help her feel validated and just as special as the new baby.
Invitation Wording
Create invitations with wording that indicates that the big sister is an important part of the occasion. For example, the invite could read, "Two plus two equals a family of four, Mommy and Daddy are expecting one more!" Another way to word the invitation could be, "Please help Mackenzie celebrate and shower her mommy and her little brother-to-be." You could also create an invitation with wording that makes it look like the big sister is the host of the shower. For instance, it might read, "Please help me celebrate my mommy and my soon-to-be little brother on this special day."
Child-Friendly Activities
To make the older sister feel like this is also her special day, allow attendees to bring their children or invite a few of her closest friends over so she can play with them. Depending on how much older she is, include her in some of the traditional shower games, such as measuring mommy's stomach, bottle drinking races or the diaper pin game, in which you lose pins if you say the word, "baby." If she is too young, allow her to hand out prizes to the winners. Set aside time to play a simple child's game with all the adults participating, such as Simon Says, but call it, "Big Sister Says" and let her be the caller. She may get a kick out of being able to tell the adults what to do.
Opening Gifts
Include the older sister in the gift opening. Have her open the presents and emphasize how she can use the gifts to help with the baby. For example, if someone gives a baby bathtub, tell her that she can use it to help give the baby a bath when he comes home. If possible have the guests bring a small gift for her as well, so that she feels like she is just as special as the baby. The gifts can be baby-related, such as big sister T-shirts, a baby doll with a bottle to help teach her how to feed babies, or children's books that help ease new baby fears.
Big Sister Recognition
Include some kind of small ceremony-type activity where her parents recognize her for being a special little girl and tell her how well she has handled everything since the new baby was announced. Both parents can award her a special "big sister" ribbon or plaque that she can hang in her room. For an older child, you might also want to give her a keepsake piece of jewelry with "big sister" etched on it or a half a heart, with her mother having the other half.
References
Writer Bio
Based in Los Angeles, Zora Hughes has been writing travel, parenting, cooking and relationship articles since 2010. Her work includes writing city profiles for Groupon. She also writes screenplays and won the S. Randolph Playwriting Award in 2004. She holds a Bachelor of Arts in television writing/producing and a Master of Arts Management in entertainment media management, both from Columbia College.
Photo Credits
Marina Dyakonova/iStock/Getty Images