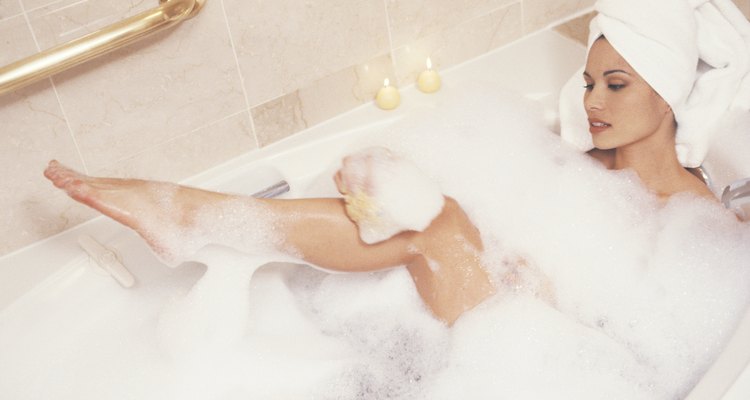 Comstock/Comstock/Getty Images
Many children get to the age where they don't like taking baths. Parents can make the bath more fun by adding bubbles. Often times, store-bought bubbles just don't make enough bubbles, and the bubbles they do make don't tend to last. It is much easier, and less expensive, to make bubble bath using dish detergent and a few other ingredients commonly found in your home.
Combine liquid dish detergent, Epsom salt, and glycerin in a plastic container and stir.
Add the food coloring. If you are making a bubble bath for a boy, you would want to choose a color like blue or red. If, however, the bubble bath is for a girl, you would want to use pink or purple.
Mix in your vanilla fragrance oil and put the lid on the plastic container.
Place a sticky label on the plastic container and use your marker to label it "Bubble Bath." Store it in the bathroom until you are ready to use it. When you use it, all you need is two tbsp. Add the two tbsp. to the running water and you will have plenty of bubbles.
Writer Bio
Alicia Bodine has been a professional writer for 13 years. She has produced thousands of articles for online publications such as Demand Studios, GoBankingRates and WiseGeek. Bodine is passionate about gardening, travel, education and finance. She has received awards for being a top content producer.
Photo Credits
Comstock/Comstock/Getty Images