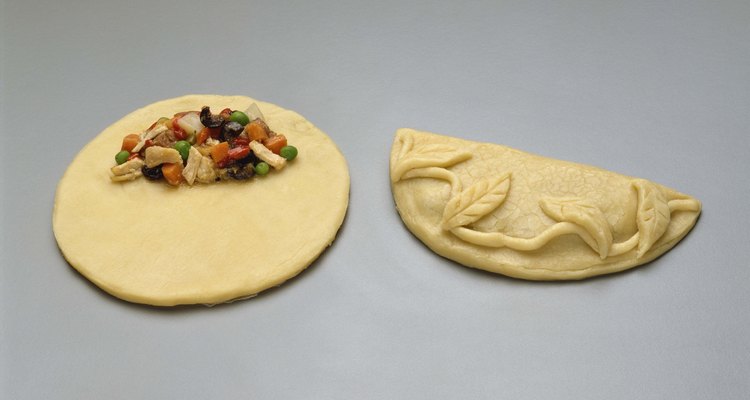 Jupiterimages/Stockbyte/Getty Images
Empanadas can contain many types of filling, from beef and chicken to fruit. These plump pastries can be made ahead of time and frozen to eat at a later date or frozen as leftovers. Perfectly frozen empanadas don't clump together in a plastic freezer bag, impossible to get apart. Individually wrapped, you can take empanadas one by one from the freezer when you get a craving.
Step 1
Line a baking sheet with parchment paper.
Step 2
Lay the empanadas on the baking sheet in a single layer so they don't touch.
Step 3
Slide the baking sheet in the freezer.
Step 4
Remove the baking sheet from the freezer when the empanadas are frozen solid -- about two hours.
Step 5
Wrap each empanada tightly in plastic freezer wrap. Place the individually wrapped empanadas in freezer bags, and then transfer the bags to the freezer.
References
Tips
Frozen empanadas keep for three months in the freezer.
Cook empanadas from their frozen state in a 350- to 400-degree Fahrenheit oven for 30 to 40 minutes, rotating the baking sheet halfway through the cooking.
Warnings
If you do not individually wrap the empanadas in plastic wrap, they may stick together, making it impossible to get them apart without breaking them.
Writer Bio
Jonae Fredericks started writing in 2007. She also has a background as a licensed cosmetologist and certified skin-care specialist. Jonae Fredericks is a certified paraeducator, presently working in the public education system.
Photo Credits
Jupiterimages/Stockbyte/Getty Images