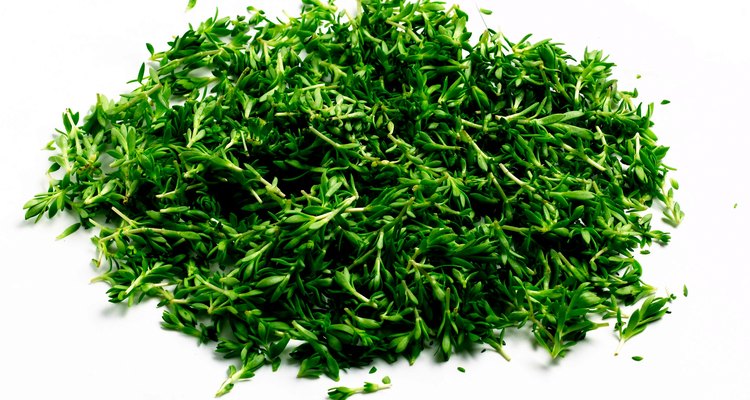 Jupiterimages/Photos.com/Getty Images
Spanakopita is a traditional Greek dish of phyllo pastry stuffed with spinach and feta cheese, most often formed into small triangles. The light, flaky pastry dough is the perfect complement for the rich, flavorful filling. You can serve spanakopita as an appetizer, a side dish or the main event, accompanied by a green salad. You can purchase prepared spanakopita in the frozen section of most grocery stores, or prepare your own from scratch and freeze them until a craving strikes.
Step 1
Place an oven rack in the center rung and preheat your oven to 375 degrees Fahrenheit.
Step 2
Arrange the spanakopita in a single layer on an ungreased baking sheet 1/2 inch apart. Do not thaw the spanakopita.
Step 3
Brush the top of the spanakopita with melted butter to encourage the phyllo dough to become brown and crispy.
Step 4
Bake the spanakopita until it becomes golden brown, about 20 to 25 minutes. Baking times can vary depending on the size of your spanakopita, so check their progress regularly to prevent over-cooking.
Step 5
Remove the spanakopita from the baking sheet with a spatula and transfer it to a wire rack. Allow the spanakopita to cool slightly before serving. Cooling the spanakopita on a wire rack ensures that the underside remains crispy and flaky and doesn't become soggy. Enjoy warm or at room temperature.
References
Writer Bio
Irena Eaves began writing professionally in 2005. She has been published on several websites including RedPlum, CollegeDegreeReport.com and AutoInsuranceTips.com. Eaves holds a Bachelor of Science in journalism from Boston University.
Photo Credits
Jupiterimages/Photos.com/Getty Images