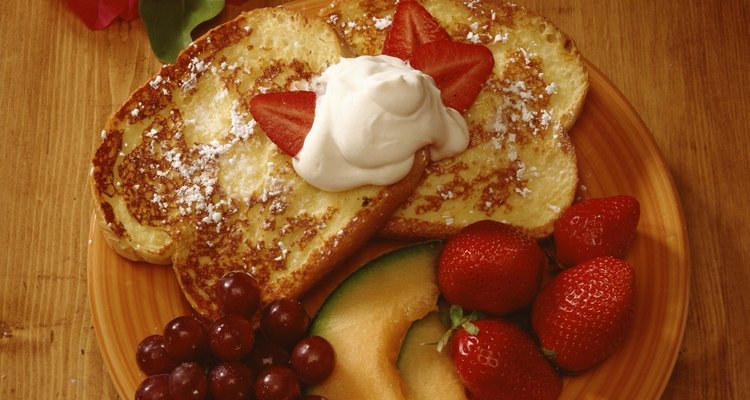 Jupiterimages/Stockbyte/Getty Images
Make French toast in the evening, then pop the dish into the oven for a fresh and hot, no-muss, no-fuss breakfast. Although make-ahead French toast is handy any time, it is especially convenient if you're serving several hungry guests or a large family. Prepare extras such as bacon or sausage while the French toast is in the oven, then serve the golden brown toast with toppers such as butter and maple syrup or honey.
Step 1
Coat a baking pan with cooking oil or melted butter. Cut or tear a loaf of French or sourdough bread into 1-inch cubes, then place the pieces in the baking dish.
Step 2
Whisk eggs in a large mixing bowl. Add milk and sugar, then beat well. If desired, stir in vanilla extract or a small amount of freshly grated orange zest.
Step 3
Pour the egg mixture over the bread. Cover the baking pan tightly with plastic wrap or aluminum foil, then put it in the refrigerator for at least 4 hours, or overnight.
Step 4
Place a small amount of brown sugar in a small mixing bowl, then stir in a dash of salt. Use a fork or pastry cutter to cut in cold butter until the mixture is the consistency of small peas. Add a pinch of nutmeg and cinnamon, if desired. Cover the bowl and place it in the refrigerator.
References
The Deluxe Food Lover's Handbook; Sharon Tyler Herbst and Ron Herbst
Tips
One loaf of French bread requires approximately 8 eggs, 2 cups of milk and 1/2 cup cream, along with about 3/4 cup of sugar.
Sprinkle the brown sugar mixture over the ingredients in the baking pan just before you're ready to bake the French toast. Place the pan in an oven preheated to 350 degrees Fahrenheit, then bake for 45 minutes to 1 hour. Allow the French toast to stand for 5 minutes, then serve.
Writer Bio
M.H. Dyer began her writing career as a staff writer at a community newspaper and is now a full-time commercial writer. She writes about a variety of topics, with a focus on sustainable, pesticide- and herbicide-free gardening. She is an Oregon State University Master Gardener and Master Naturalist and holds a Master of Fine Arts in creative nonfiction writing.
Photo Credits
Jupiterimages/Stockbyte/Getty Images