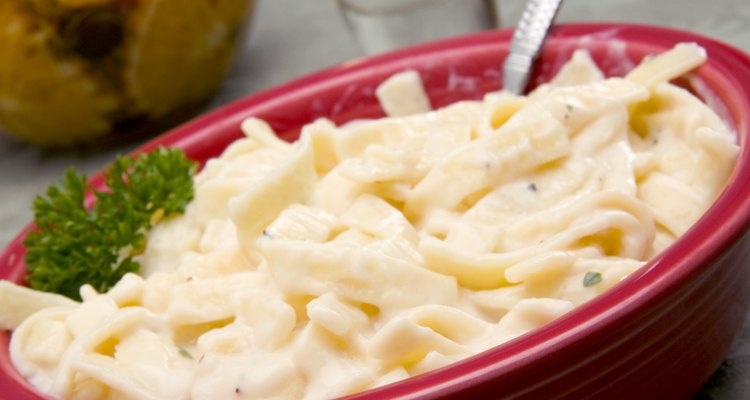 Jupiterimages/liquidlibrary/Getty Images
Keep your Alfredo sauce creamy and delicious while trimming the fat with milk, and no one will be the wiser. Successfully skip the cream in this classic comforting dish to create a low-fat alternative that satisfies when served atop chicken, pasta or vegetables. Use freshly grated Parmesan to intensify the richness, making it optional for those curbing calories. Finish the dish with fresh or homemade egg noodles for a knock-out main dish suitable for both weekday nights or a casual dinner party.
Step 1
Gather all the ingredients for your favorite alfredo sauce recipe. These should include butter, flour, Parmesan cheese and salt. Melt the butter in a medium saucepan over low heat. Add equal amounts of flour and butter to the pan, and stir until completely combined.
Step 2
Exchange an equal amount of milk for the cream called for in your recipe, and slowly add it to the butter-flour mixture, whisking as you go. Continue to whisk the mixture constantly for 1 or 2 minutes, until the sauce begins to simmer.
Step 3
Turn off the heat. Add in Parmesan cheese, and stir until melted. Season with salt to taste.
References
The New Best Recipe: America's Test Kitchen
Tips
Cook fettuccine noodles in a separate pot at the same time as the sauce; drain the noodles, and add them to the Alfredo sauce before serving.
Add steamed broccoli, carrots or peas to an Alfredo pasta dish to increase its nutritional value.
Warnings
Do not step away from the sauce while cooking; it is necessary to stir Alfredo sauce constantly to prevent clumping in the finished product.
Writer Bio
Based in Portland, Ore., Maxine Wallace is a writer with more than 12 years of experience. With a bachelor's degree in journalism and experience working on marketing campaigns for large media agencies, she is well-versed in multiple industries including the Internet, cooking, gardening, health, fitness, travel and holistic living.
Photo Credits
Jupiterimages/liquidlibrary/Getty Images