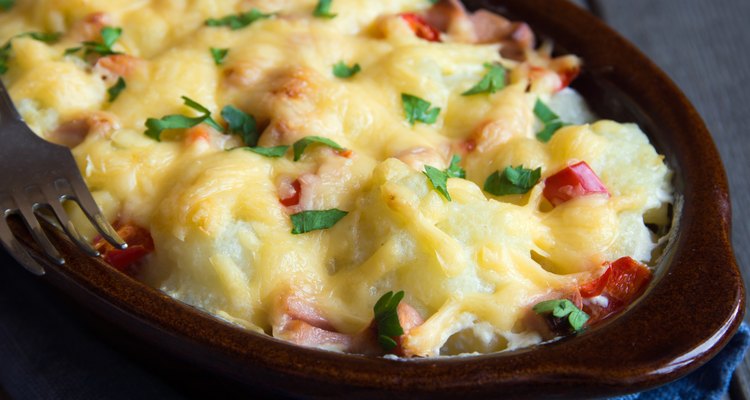 Mizina/iStock/Getty Images
Pimento cheese is a regional dish native to the Southern United States that is a mixture of cheddar cheese, mayonnaise, pimentos and seasoning. The combination of cheese and mayonnaise makes the dish particularly caloric.
Calorie Breakdown
A 1-ounce serving of commercially made pasteurized pimento cheese contains 106 calories, 8.85 grams of fat, 6.27 grams of protein, 5.57 grams of saturated fat, 0.49 grams of carbohydrate, 405 milligrams of sodium and 27 milligrams of cholesterol. Fat accounts for approximately 75 percent of the calories, protein for 24 percent and carbohydrate for 1 percent.
Vitamins and Minerals
The most up-to-date recommendations for daily vitamin and mineral consumption from the Institute of Medicine are the dietary reference intakes. A 1-ounce serving of pimento cheese provides 30.4 percent of the reference daily intake for phosphorus, 13.4 percent for calcium, 8.3 percent for vitamin B-12, 7.7 percent for riboflavin and vitamin A, 7.6 percent for zinc and 7.5 percent for selenium.
Considerations
One ounce of pimento cheese has 37 percent of the saturated fat, 18 percent of the sodium, 11 percent of the total fat and 9 percent of the cholesterol that the Institute of Medicine recommends healthy adults limit themselves to per day.
Resources
Writer Bio
Christine Gray began writing professionally in 1997, when a trade publishing company hired her as an assistant editor. She wrote her first screenplay in 1998 and has been covering health and nutrition since 2009. Gray graduated with a Bachelor of Arts in English literature from the University of Michigan.
Photo Credits
Mizina/iStock/Getty Images