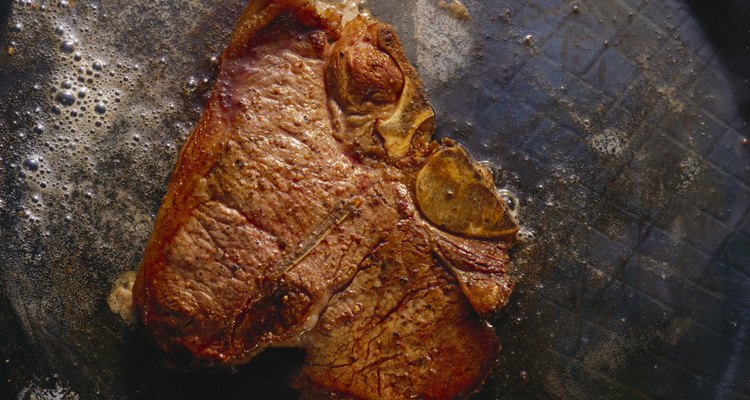 Eising/Photodisc/Getty Images
Churrasco steak is a Latin American dish often served for dinner and is most commonly found in steakhouses. The seasoning of churrasco steak is powerful, as a wide variety of herbs and spices flavor the meat. While churrasco steak is typically prepared on a grill, you can cook it in a pan for a similar-tasting result. Approximately 15 minutes is required to cook churrasco steak in a pan. This recipe is for four steaks.
Blend the fresh cilantro, fresh oregano, fresh thyme, ground cumin, ground black pepper, sea salt, green onions, minced garlic, white vinegar and cooking oil in a medium-size mixing bowl. Whisk the marinade until it is well-blended.
Place the sirloin steaks into the mixing bowl and press them down to coat them in the marinade. Allow the churrasco steaks to marinate for 1 hour at room temperature.
Preheat a skillet to medium-high and remove one steak from the marinade. Place the steak directly into the skillet and allow it to sear for 3 minutes.
Flip the steak and pour 1/4 cup of the marinade over the top. Poke a meat thermometer into the steak's center and allow it to continue cooking until it reaches your desired level of doneness. The thermometer should register 125 degrees Fahrenheit for rare, 130 for medium-rare, 135 for medium and 140 for medium-well done.
Remove the churrasco steak from the pan and pour any marinade from the skillet over the top. Repeat the process with the remaining churrasco steaks.
References
"The Art of Brazilian Cookery"; Dolores Botafogo; 1993
"Meat: A Kitchen Education"; James Peterson; 2010
"The Complete Meat Cookbook"; Bruce Aidells and Denis Kelly; 2001
Writer Bio
Serena Styles is a Colorado-based writer who specializes in health, fitness and food. Speaking three languages and working on a fourth, Styles is pursuing a Bachelor's in Linguistics and preparing to travel the world. When Styles isn't writing, she can be found hiking, cooking or working as a certified nutritionist.
Photo Credits
Eising/Photodisc/Getty Images