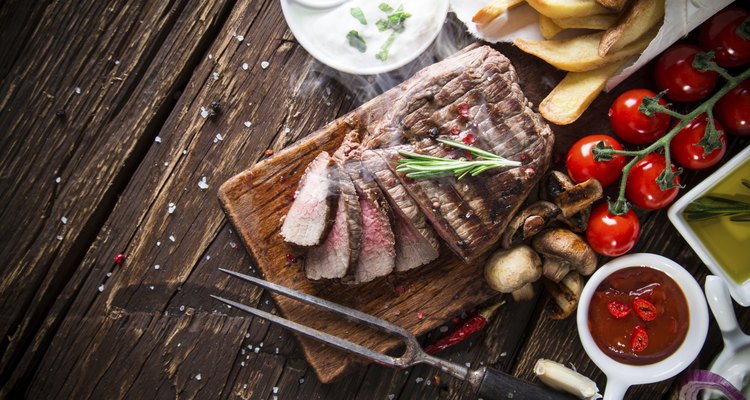 Kesu01/iStock/Getty Images
Dominican-style steak, or bistec encebollado, is a featured steak-and-onions dish in several Central and South American countries and the Caribbean. Traditionally, you slow-cook the beef over moderate heat until the meat is tender and falls apart. Because of the slow-cooking you can use cheaper cuts of meat, such as skirt steak or stew beef. The onions and spices form a rich sauce; the resulting dish resembles a stove-top pot roast.
Measure one tbsp. each garlic powder, onion powder, chili powder, paprika, cinnamon and salt into a small bowl. Mix the spices together and transfer them to a glass jar.
Put the stew beef in a plastic bag and add two tbsp. of the spice mix, one tbsp. of white vinegar and one tbsp. of olive oil. Seal and squeeze the bag to infuse the meat with the spices. Let the meat marinate in the refrigerator overnight.
Heat two tbsp. olive oil and one tbsp. butter on medium-high in a cast-iron skillet. Add the meat to the pan and sauté until brown on all sides.
Add the sliced onions and sauté until the onions turn golden brown. Add 1½ cups beef stock, ¼ cup vinegar and 1 tbsp. of the spice mixture to the skillet.
Reduce the heat to medium low, cover the pot and let the meat and onions simmer for 1 hour. Stir often.
References
"Field Guide to Meat: How to Identify, Select, and Prepare Virtually Every Meat, Poultry, and Game Cut"; Aliza Green; February 2005
"Culinary Arts Principles and Applications"; Michael J. McGreal; 2008
Writer Bio
Max Whitmore is a personal trainer with more than three years experience in individual and group fitness. Whitmore has a Bachelor of Arts in English literature from the University of Cincinnati, fitness certifications and dietetics training from Cincinnati State Technical and Community College. Whitmore has written for several online publishers.
Photo Credits
Kesu01/iStock/Getty Images