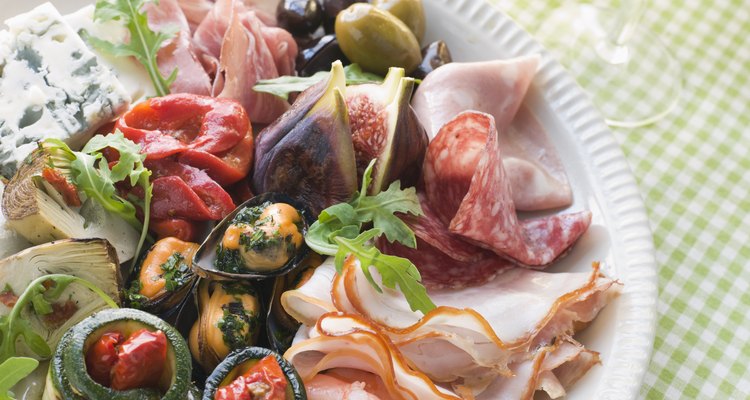 Monkey Business Images/Monkey Business/Getty Images
Antipasto is the appetizer course in an Italian meal, consisting of cured meat, cheese, peppers, olives, pickles and other bite-sized savory foods. An antipasto salad uses the traditional antipasto ingredients with greens or pasta such as orzo or rotelle.
Ingredients
One recipe calls for 6 cups lettuce, 1 cup garbanzo beans, 6 oz. salami, 6 oz. Provolone cheese, 2 tomatoes, 4 oz. roasted red peppers, 1 cup assorted olives plus a vinaigrette made from 1/4 cup red wine vinegar, 1 tbsp. lemon juice, 1/2 cup olive oil, 1 tsp. honey and salt.
Calories
This recipe makes six servings. Each has 506 calories, 36 g of fat, 828 mg sodium, 28 g carbohydrates and 18 g protein, according to the U.S. Department of Agriculture nutrient database.
Tuna Antipasto Salad
A different antipasto salad, with flavors from the Mediterranean coast, calls for a vinaigrette made from 1/3 cup lemon juice and 1/3 cup olive oil as well as two 6-ounce cans tuna, 1 cup cannellini beans, 24 pitted Calamata olives, 2 cups celery, 2 tablespoons capers, 2 tablespoons parsley, 2 teaspoons lemon zest, 1 teaspoon minced garlic and 2 roasted red peppers.
Calories in Tuna Antipasto Salad
This recipe also makes six servings; each has 259 calories, 7 g fat, 372 mg sodium, 25 g carbohydrates and 24 g of protein.
References
"Williams-Sonoma: Salad: Food Made Fast"; Brigit Binns; 2007
"Insalate: Authentic Italian Salads for All Seasons"; Susan Simon, Manfredi Bellati, and Richard Eskite; 2001
Writer Bio
Ramona French owned a massage school and taught massage for 28 years. In that time she wrote textbooks on Swedish, acupressure, deep tissue and lymph drainage massage. She is the author of "Introduction to Lymph Drainage Massage" and "Milady's Guide to Lymph Drainage Massage." Her book, "The Complete Guide to Lymph Drainage Massage," published by Milady, was released in October 2011.
Photo Credits
Monkey Business Images/Monkey Business/Getty Images