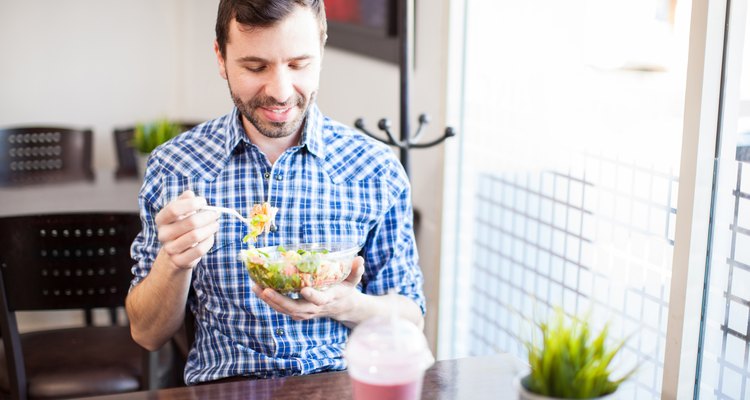 Antonio_Diaz/iStock/GettyImages
Hearty and Healthy Tuna Salad
Tuna salad makes a fast, easy, no-cook dinner for a hot summer evening when the last thing you want to do after work is cook. The basic recipe is chock-full of healthy ingredients and is also flexible enough for adding extra ingredients depending on your family's tastes. By choosing low-fat ingredients and adding nutritious extras, your tuna salad turns even more wholesome than the regular version.
This hearty tuna salad recipe works best served as a main course, with a crusty roll to finish off the plate. Compose each person's plate in the kitchen before serving.
Total Time: 10 minutes | Prep Time: 10 minutes | Serves: 4
2 5-ounce cans tuna, drained

1 cup celery, thinly sliced
1/3 cup light mayonnaise
2 tablespoons Dijon mustard
1 tablespoon capers
1 teaspoon lemon juice, freshly squeezed
1 cup canned navy beans, rinsed and drained
1/4 cup vinaigrette
1 package baby spinach
1 cup cherry tomatoes, halved
2 avocados, sliced
1 cup canned beets, quartered or sliced
salt and ground black pepper
In a medium mixing bowl, stir together the first six ingredients until they are well blended, and the tuna flakes have broken apart.

Add the beans to the bowl, gently stirring them into the mixture. Try to keep the beans intact so they don't become mashed.
Taste the salad, and add a few more tablespoons of mayonnaise if it seems on the dry side. Set the bowl aside.
In a large mixing bowl, combine the vinaigrette and spinach.
Compose each plate by placing a layer of spinach leaves on the plate. Mound the tuna salad in the center of the plate on top of the spinach.
Arrange the avocados, beets and tomatoes in separate sections around the perimeter of the plate and sprinkle them with salt and pepper.
References
Writer Bio
Susan Lundman began writing about her love of cooking, ingredient choices, menu planning and healthy eating after working for 20 years on children's issues at a nonprofit organization. She has written about food online professionally for ten years on numerous websites, and has provided family and friends with homemade recipes and stories about culinary adventures. Lundman received her M.A. from Stanford University.