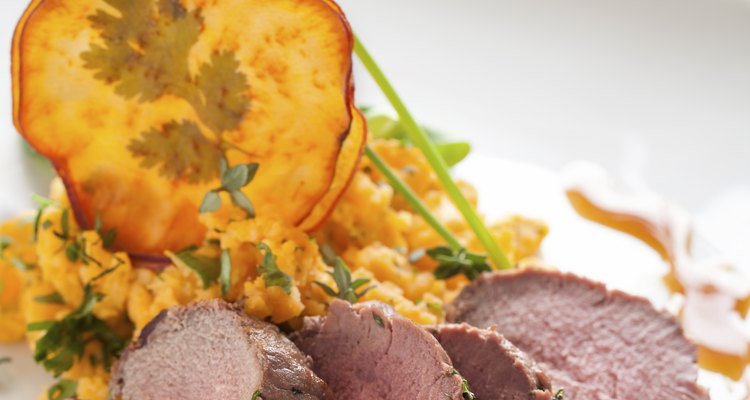 Jurajkovac/iStock/Getty Images
Deer meat, or venison, is a healthy alternative to beef and pork, containing about the same amount of fat and cholesterol as white-meat turkey. To reduce the gamey flavor of deer meat, cut away as much fat as possible and marinate the meat or add strong flavors such as garlic during preparation. Cooking barbecue deer meat in a Crock-Pot is a convenient way to create a main dish or sandwich ingredient.
Trim any extra fat from the venison using a butcher knife.
Combine 12 oz. of beer, three minced cloves of garlic, salt, pepper, two sliced onions and three bay leaves in a large bowl to make a marinade.
Put the venison in the bowl, making sure the marinade covers the meat.
Refrigerate the venison for 12 to 24 hours, turning it occasionally.
Take the marinaded venison and the onion slices out of the bowl and put them into a slow cooker.
Pour 1 cup of barbecue sauce over the meat and onions.
Cover the slow cooker and set it on low.
Cook the venison for 10 to 12 hours.
Remove the venison from the slow cooker and serve it with the remaining 1 cup of barbecue sauce.
References
Writer Bio
Margaret Morris has a Bachelor of Arts in English with a concentration in creative writing from the University of Pittsburgh. She also holds a celebrant certificate from the Celebrant Foundation and Institute. Morris writes for various websites and private clients.
Photo Credits
Jurajkovac/iStock/Getty Images