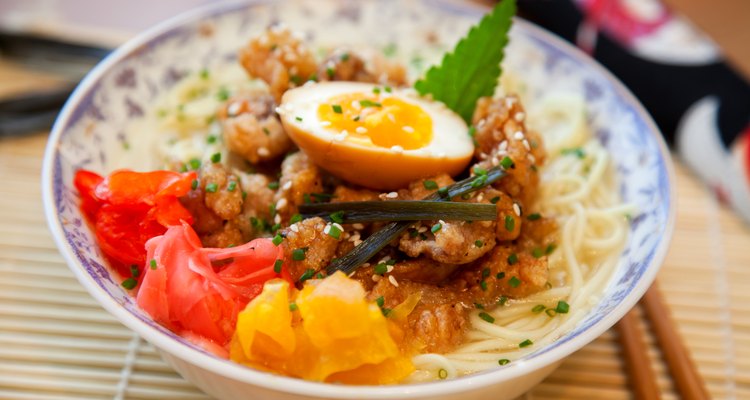 fazeful/iStock/Getty Images
Yakamein, or yaka mein, is a soup commonly served in Chinese and Creole restaurants throughout New Orleans. The soup typically consists of beef broth, pork, spaghetti noodles and hard-boiled eggs. Its flavor is soft and is well complemented by a garnish of green onions. The ingredients for yakamein are readily available at your local grocer for a relatively low price. You will need approximately 45 minutes to cook yakamein. This recipe serves four.
Combine the beef bouillon and water in a large stockpot and bring to a boil over high heat.
Add the pork, spaghetti noodles and soy sauce to the pot and reduce the heat to medium. Simmer for 30 minutes or until the noodles are cooked.
Remove the soup from the heat and season with garlic salt and ground black pepper to taste.
Ladle equal amounts of the soup into four serving bowls and garnish with two hard-boiled egg halves and equal amounts of green onions. Serve the yakamein while hot.
References
"Williams-Sonoma Foods of the World: New Orleans: Authentic Recipes Celebrating the Foods of the World"; Constance Snow; 2005
Writer Bio
Serena Styles is a Colorado-based writer who specializes in health, fitness and food. Speaking three languages and working on a fourth, Styles is pursuing a Bachelor's in Linguistics and preparing to travel the world. When Styles isn't writing, she can be found hiking, cooking or working as a certified nutritionist.
Photo Credits
fazeful/iStock/Getty Images