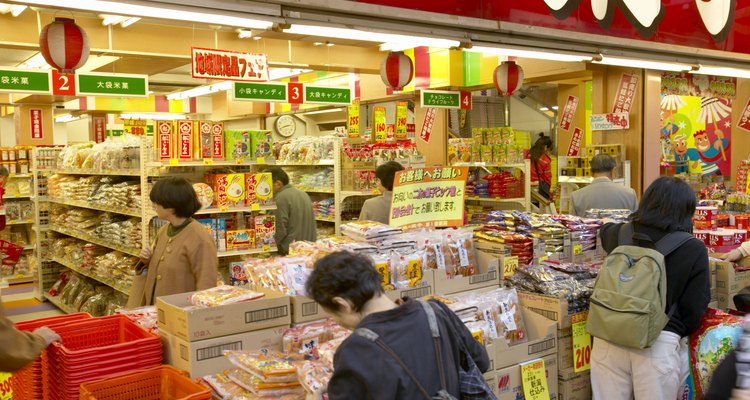 Jupiterimages/Photos.com/Getty Images
While you won't find them at your typical grocery store, cornstarch noodles, better known as pancit luglug, are easy-to-cook noodles hailing from the Philippines. You can find these specialty noodles -- made with cornstarch, rice flour and water -- in most Asian grocery stores, sometimes labeled "special palabok." The dried noodles must be soaked to soften them before being boiled in water or any other liquid, depending on the dish. In the Philippines, cooks often top pancit luglug noodles with a flavorful spicy shrimp sauce, vegetables, cooked pork and seafood such as shrimp, mussels and squid.
Step 1
Place the cornstarch noodles in a bowl of lukewarm water to soak for about 10 to 15 minutes.
Step 2
Fill a pot with water and bring it to a boil. Add the softened noodles to the boiling water and let them cook until the noodles are tender, but still slightly firm -- about 7 to 15 minutes, depending on the amount of noodles you are cooking.
Step 3
Drain the hot water from the noodles and rinse them with cold water to stop the cooking process. Drain well. Add the noodles to a serving bowl and add the sauce, meat and vegetables you prefer.
References
The Rodale Whole Foods Cookbook; Dara Demoelt
Ethnic Food Lover's Companion; Eve Zibart
Classic Asian Noodles; Lee Geok Boi
Resources
Tips
Substitute cornstarch noodles with bean thread noodles or other thin rice-based noodles.
Try serving the noodles Filipino-style, with a seafood-based sauce with shrimp, pork, green onions and garlic.
Writer Bio
Based in Los Angeles, Zora Hughes has been writing travel, parenting, cooking and relationship articles since 2010. Her work includes writing city profiles for Groupon. She also writes screenplays and won the S. Randolph Playwriting Award in 2004. She holds a Bachelor of Arts in television writing/producing and a Master of Arts Management in entertainment media management, both from Columbia College.
Photo Credits
Jupiterimages/Photos.com/Getty Images