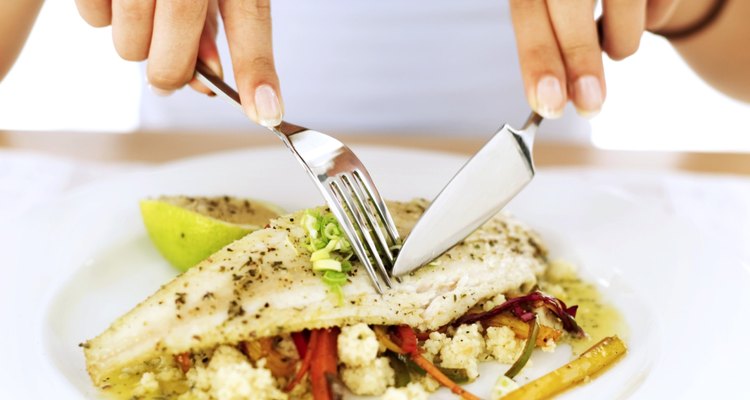 George Doyle/Stockbyte/Getty Images
Baked tilapia is a no-fuss meal that offers endless variations. Quick to prepare and healthy to boot, baked tilapia is ideal for a simple weeknight dinner. You can season the tilapia however you please depending on your preferences. Try using paprika, cayenne and garlic for a Southwestern-inspired dinner, or take inspiration from Asian cuisine and use a mixture of ginger, garlic and coriander. Serve your baked tilapia alongside cooked vegetables and rice or potatoes for a complete dinner.
Step 1
Preheat your oven to 450 degrees Fahrenheit.
Step 2
Pat the tilapia dry with paper towels. Lightly grease a glass or ceramic baking dish with extra-virgin olive oil and arrange the tilapia in the dish.
Step 3
Brush the tilapia lightly with extra-virgin olive oil and season with salt and pepper. You can get creative with other seasonings, as well. Try using a combination of dried herbs and spices like garlic powder, paprika, cayenne pepper, parsley or dill. Choose any seasonings you enjoy that complement the flavors in the rest of your meal. Shoot for about 1 teaspoon of mixed herbs and spices for each pound of tilapia.
Step 4
Bake the fish about 8 to 10 minutes, until it flakes easily with a fork, or an instant-read thermometer inserted into the thickest part of the fish reaches 145 F. Serve immediately with lemon or lime wedges as a garnish, if you wish.
References
Resources
Warnings
Always cook fish to a minimum temperature of 145 F to ensure safety.
Writer Bio
Irena Eaves began writing professionally in 2005. She has been published on several websites including RedPlum, CollegeDegreeReport.com and AutoInsuranceTips.com. Eaves holds a Bachelor of Science in journalism from Boston University.
Photo Credits
George Doyle/Stockbyte/Getty Images