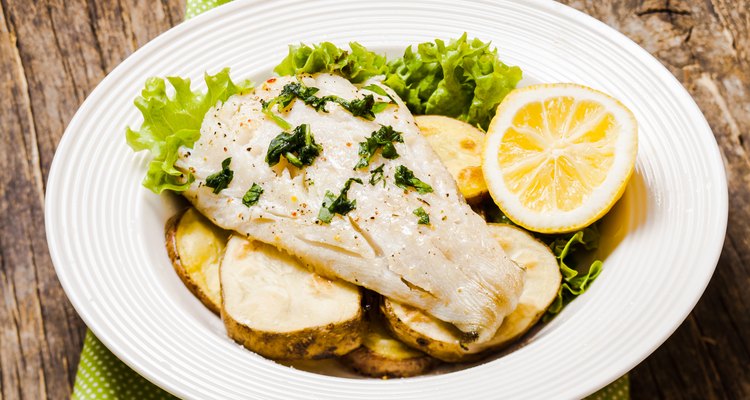 Turbot is a fish prized for its mild flavor and firm, brilliant white flesh. This flatfish is native to European waters, from Iceland to the Mediterranean. There is a limited global supply of turbot and it is usually imported frozen in fillets to the United States. If you're lucky enough to get your hands on some turbot, try baking this delicacy in the oven to produce a moist, flaky and flavorful fish dish.
Rinse the turbot fillets with cool water and pat dry with paper towels.
Create a simple marinade using olive oil and seasonings. Try using fresh herbs like chives or parsley. Coat the fillets with the marinade and let sit for 30 minutes. If you don't have time to let the turbot marinate, brush the fillets with the marinade right before cooking.
Preheat your oven to 450 to 475 degrees Fahrenheit. Add additional seasonings to both sides of the turbot fillets, if desired, and arrange in a baking dish.
Bake the fish for approximately 20 minutes, or until the fillets begin to flake when gently prodded with a fork. Remove the fish from the oven and serve with with fresh lemon wedges, if desired.
References
Tips
Experiment with subtle seasonings like bay leaves, paprika and Parmesan to enhance the flavor of the fish. Try serving turbot with a potato puree or a fresh garden salad.
A general rule for cooking fish is to measure the flesh at its thickest point and cook eight to 10 minutes per inch, four to five minutes per half-inch.
When purchasing frozen fish fillets, make sure they are solidly frozen and don't have an odor. Do not purchase frozen fish fillets if there are any white, dark, icy or dry spots present.
Warnings
Consumption of undercooked fish increases the likelihood of exposure to foodborne illness. Fish is done when its internal temperature reaches 145 degrees Fahrenheit.
Writer Bio
Christina Kalinowski is a writer from the Twin Cities who began her career in 2011. She contributes food and drink related articles to The Daily Meal. She holds a Master of Arts in sociology from Purdue University.