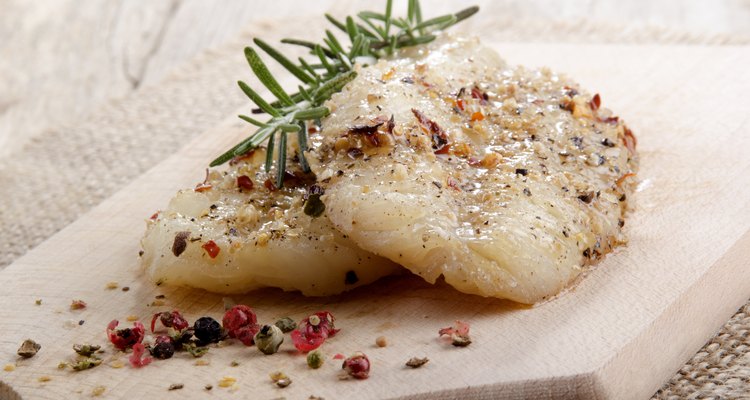 Szakaly/iStock/GettyImages
One of the most widely caught fish in both the Atlantic and Pacific oceans, whiting fish is fast and easy to cook in the oven. Similar to cod, whiting has a very mild flavor, making it necessary to season the fillets or coat them with seasoned bread crumbs for flavor and texture before baking. The rather delicate whiting fillets only need minutes in the oven to reach a flaky tenderness and can be enjoyed on their own or with a tasty sauce that adds more flavor to them.
Preheat your oven to between 425 and 450 degrees Fahrenheit and spray a baking dish with cooking spray.
Drizzle the whiting lightly with olive oil and season with salt and pepper. Alternatively, press the olive oil-coated whiting into a bowl of seasoned bread crumbs on both sides, if you want your fillets breaded. You can use store-bought traditional bread crumbs or Japanese panko, which produce a crispier coating. Choose seasoned varieties or season them yourself with salt, pepper and additional seasonings of your choice, such as garlic powder and dried herbs.
Place the whiting fillets in the baking dish in a single layer and bake in the oven for about 15 to 20 minutes, until the fish is cooked through. The flesh should be pearly white and flake easily with a fork. If you breaded the whiting, the bread crumbs should be golden brown.
References
Tips
Serve the whiting with a flavorful sauce, such as a lemon-garlic sauce, or use a mustard or mayonnaise-based sauce to coat the whiting before breading them.
Writer Bio
Based in Los Angeles, Zora Hughes has been writing travel, parenting, cooking and relationship articles since 2010. Her work includes writing city profiles for Groupon. She also writes screenplays and won the S. Randolph Playwriting Award in 2004. She holds a Bachelor of Arts in television writing/producing and a Master of Arts Management in entertainment media management, both from Columbia College.