Erika Jones/Demand Media
Swai is a white fish that has been popular in Laos, Cambodia and Vietnam for many years, but it has only been readily available in the United States for the last few years. Swai has a mild, slightly sweet flavor and a light, flaky texture that lends itself to baking, as it can sometimes fall apart when grilled. Swai also pairs well with sweet fruit-based sauces, and should be served with a dry white wine like chardonnay or sauvignon blanc.
Erika Jones/Demand Media
Take the swai fillets out of the refrigerator 90 minutes before you want to cook them to warm up to room temperature. Keep the fish covered with plastic wrap.
Erika Jones/Demand Media
Preheat the oven to 350 degrees Fahrenheit.
Erika Jones/Demand Media
Brush the bottom of a baking dish with the melted unsalted butter. The dish should be large enough to hold the swai fillets without overlapping.
Erika Jones/Demand Media
Place the swai fillets in the baking dish and brush the tops of the fish with the extra virgin olive oil. Season the fish with sea salt or kosher salt and freshly ground black pepper, to taste.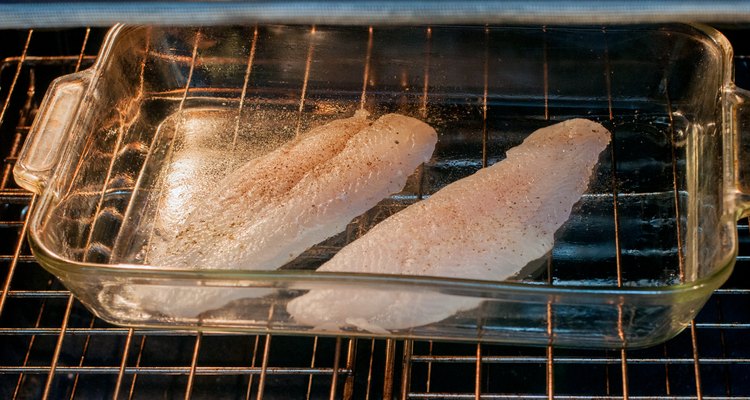 Erika Jones/Demand Media
Bake the swai fillets in the oven for 12 minutes. Do not check the fish fillets during the cooking time.
Erika Jones/Demand Media
Check the internal temperature of the thickest swai fillet in the center with an instant-read thermometer. The fish is completely cooked when the internal temperature is 140 degrees Fahrenheit.
Erika Jones/Demand Media
Put the fish back in the oven in 5-minute intervals if it is not fully cooked, checking the temperature after each interval.
Erika Jones/Demand Media
Transfer the swai fillets to a large serving platter. Top the fillets with chopped fresh flat-leaf parsley. Garnish the plate with the lemon wedges and serve while hot.
References
"Fish: The Complete Guide to Buying and Cooking"; Mark Bittman; 1999
"Fish Without a Doubt"; Rick Moonen and Roy Finamore; 2008
Tips
If your swai fillets are too wet, gently pat them dry with paper towels before baking to avoid steaming the fish.
Writer Bio
Christopher Godwin is a freelance writer from Los Angeles. He spent his formative years as a chef and bartender crafting signature dishes and cocktails as the head of an upscale catering firm. He has since ventured into sharing original creations and expertise with the public. Godwin has published poetry, fiction and nonfiction in publications like "Spork Magazine," "Cold Mountain Review" and "From Abalone To Zest."
Photo Credits