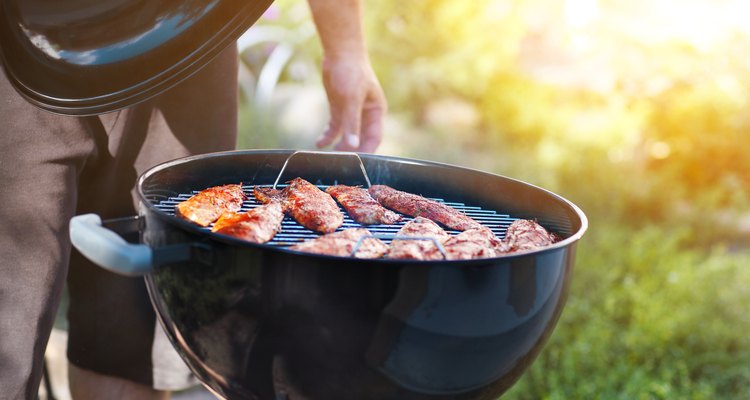 petrenkod/iStock/GettyImages
Cobia is found everywhere except the Eastern Pacific, but it is not commercially fished. This makes it somewhat hard to find unless you are a sport fisherman or have access to cobia from one of the few companies in the United States who distribute aquaculture-farmed cobia. The silky, delicate texture and sweet, mild flavor are similar to those of tilapia, and it can be prepared in as many different ways. As with tilapia, you must avoid overcooking cobia so that it does not dry out and become tough.
Grill cobia by first coating the grill rack with nonstick cooking spray. Heat the grill to medium high. Place cobia fillets on the hot grill. Season them to taste. Salt, pepper and lemon are good options. Cook the fish for 10 minutes per inch of thickness, turning them halfway through the cooking time.
Pan fry cobia in a skillet coated with a thin layer of olive oil. Heat the olive oil over medium heat until it simmers. Add sliced shallots and a splash of white wine to the pan, if desired. Season your cobia with salt and pepper or complementary flavors and add it to the pan. Cook the fish for three to five minutes per side.
Broil cobia by coating a broiler pan's rack with nonstick cooking spray. Season the fish and place it on the broiler pan rack. Lay thin slices of lemon on top of the fish, if desired, covering the fillets completely, then sprinkle paprika. Broil the fish for seven to 10 minutes, depending on thickness. The cobia is done when an instant-read thermometer reports an internal temperature of 145 degrees Fahrenheit.
References
Resources
Tips
Bread your cobia with a coating made of toasted coconut and almonds run through a food processor before cooking it for an earthy, nutty treat.
Warnings
Do not microwave fresh cobia because it dries out very quickly.
Writer Bio
Brynne Chandler raised three children alone while travelling, remodeling old homes, taking classes at the Unioversity of California Northridge and enjoying a successful career writing TV Animation. Her passions include cooking, tinkering, decorating and muscle cars. Brynne has been writing fun and informative non-fiction articles for almost a decade. She is hard at work on her first cookbook, which combines healthy eating with science-based natural remedies.