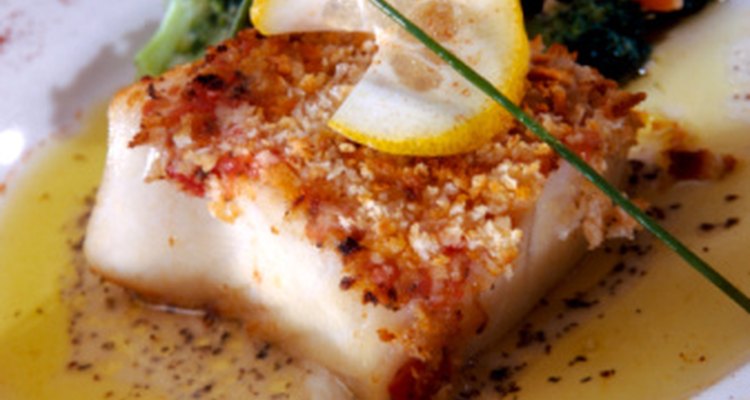 Jupiterimages/liquidlibrary/Getty Images
The term "sea bass" refers to a number of marine fish that are related to the perch. Celebrity chefs rave about the flavor of this beautiful fish, which has caused the fish to become a popular choice among supermarket consumers in the UK. Pan frying is one of the most popular cooking methods among professional chefs in preparing sea bass. There are many different ways to pan fry sea bass. The easiest way is to simply add seasoning and fry in olive oil and butter.
Heat a large skillet on medium heat with olive oil and 1 tbsp. butter.
Season the sea bass fillets with salt and pepper.
Place the sea bass fillets in the hot skillet and cook for five minutes on each side. Set the fish aside on a plate when it is done.
Deglaze the frying pan by adding the cold vermouth to the hot pan in order to loosen the brown bits of flavor that are stuck to the bottom of the pan. Add the thyme and saffron, leaving the mixture to bubble until it is reduced by two-thirds.
Add the remaining butter to the mixture, whisk in the heavy cream, and heat through.
Serve the fillets with the cream sauce on top.
References
Writer Bio
Based in Hilliard, Ohio, Laylah Ghazi began writing professionally in 2010. Her areas of expertise include health and fitness and culture and society. Ghazi attended Oakwood University, where she majored in nursing.
Photo Credits
Jupiterimages/liquidlibrary/Getty Images