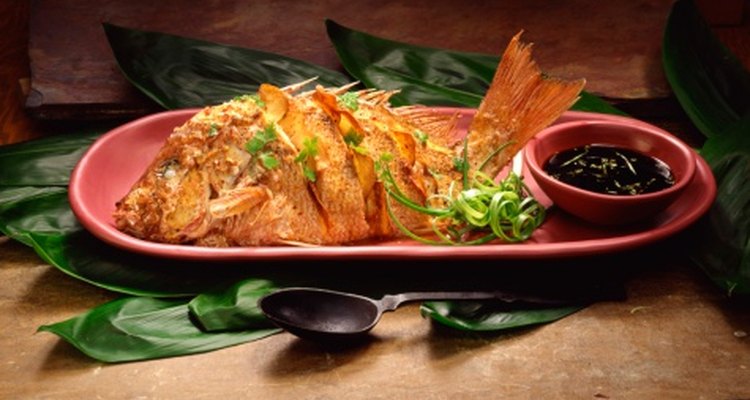 Jupiterimages/Comstock/Getty Images
Red snapper, or Lutjanus campechanus, is one of the most popular fish eaten in the Caribbean. The red-colored fish can grow up to 39.7 inches and 50 pounds in the South Atlantic Ocean. This mild-tasting fish is low in saturated fat and high in protein. In Jamaica, red snapper is typically used in making escovithed fish, which is basically fried fish with vegetables and peppers. To cook red snapper Jamaican style, start with 2 pounds of fillets.
Mix fresh ground pepper, salt and flour in a shallow bowl or pan. Dry fish fillets with paper towels, and dip into your flour mixture. Shake off excess flour and set fish aside on a plate.
Heat 1/2 cup of oil in a medium skillet over medium-high heat until it is hot, but not smoking. Add fish fillets one or two at a time and fry approximately 2 minutes of each side. You may use tongs to turn fish.
Drain the fried fish on paper towels. Arrange the fish on the large serving platter in a single layer. Wipe your skillet clean, add 2 tablespoons of oil and reduce the heat to low.
Add onion, peppers, chile and allspice berries to your skillet. Cover and cook for 5 minutes. Stir the mixture occasionally. Add white wine vinegar and cook for an additional 5 minutes.
Pour vegetables and spices over the fried red snapper on the large serving plate. Serve dish at room temperature. This recipe makes six servings.
References
"Caribbean Cooking"; John DeMers, 1989
Writer Bio
Charong Chow has been writing professionally since 1995. Her work has appeared in magazines such as "Zing" and "Ocean Drive." Chow graduated from the University of Miami with a Bachelor of Arts in philosophy. She also received a Bachelor of Fine Arts from the California Institute of the Arts.
Photo Credits
Jupiterimages/Comstock/Getty Images