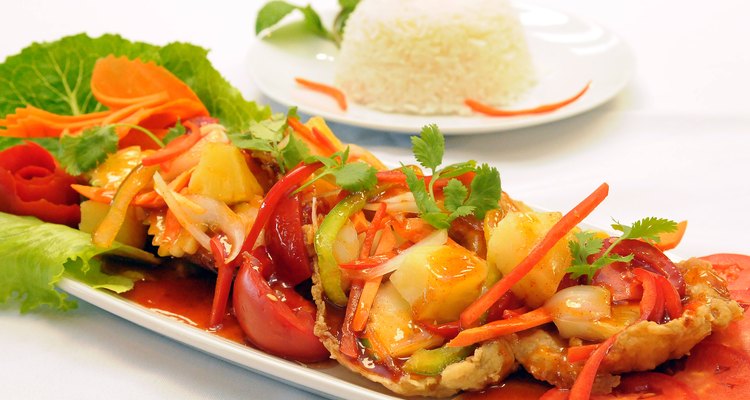 JeffKearney/iStock/Getty Images
Sweet-and-sour tilapia, also known as "tilapia escabeche," is a Filipino dish. The Filipinos adapted the recipe from Chinese and Spanish cultures. Sweet-and-sour sauce was developed by the Cantonese in China and the combination creates a mouth-watering sauce to top on the tilapia. The tilapia is traditionally served whole and deep fried until crunchy. However, you can modify the dish for health or taste preferences and use baked tilapia fillets instead. Purchase the whole tilapia from your local fish market.
Heat the cooking oil in a skillet on the stove top over medium-high heat. Add the tilapia to the pan when the oil is hot. Cook the tilapia on one side until it is brown and crispy. Flip the fish and cook it on the other side until it is brown and crispy. Set the tilapia aside when it is done.
Sauté the garlic and onion in a clean sauce pan with a small amount of oil or butter for three to five minutes. Add the pineapple and carrots. Simmer the mixture on low heat for 10 minutes.
Combine the pineapple juice, soy sauce, sugar, water, ginger and flour in the saucepan and mix well. Add salt and pepper to taste.
Simmer the dish until the sauce is well blended and thick. Add the bell peppers and simmer the tilapia for an additional minute.
Pour the sweet-and-sour sauce over the fried tilapia. Serve the tilapia with rice.
References
Writer Bio
Ireland Wolfe has been writing professionally since 2009, contributing to Toonari Post, Africana Online and Winzer Insurance. She obtained her Bachelor of Arts in psychology and Master of Arts in mental health counseling. She is also a licensed mental health counselor, registered nutritionist and yoga teacher.
Photo Credits
JeffKearney/iStock/Getty Images