Laura Vryhof/Demand Media
Chipotle chiles are actually smoked and dried jalapeño peppers. They are widely used in the United States and Mexico for many culinary purposes. Chipotle sauce is commonly made from these chiles and has a powerful flavor, both spicy and sweet. It can be used as a dipping sauce or implemented into any recipe that requires chipotle sauce. It is very spicy and should be taste tested before using or serving to others. This recipe yields approximately 3 cups of chipotle sauce.
Laura Vryhof/Demand Media
Combine the chipotle chiles with the guajillo chiles in a large bowl. Add hot water to the bowl until the chiles are submerged and let stand for 15 to 20 minutes or until soft. Drain the water.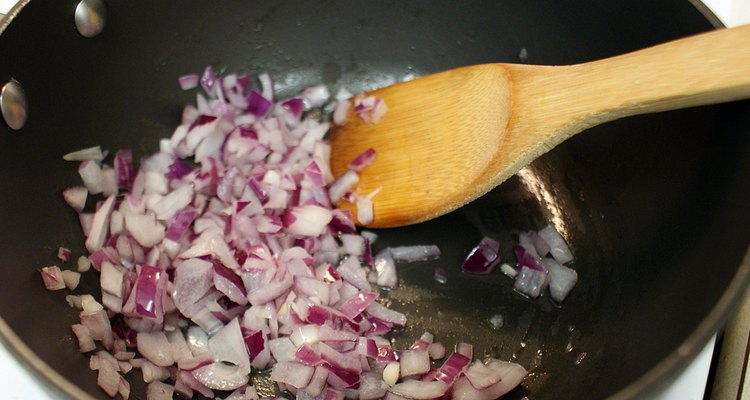 Laura Vryhof/Demand Media
Remove the stems and chop the chiles into small pieces. Add the onion and vegetable oil to a medium saucepan, and saute over medium heat until soft.
Laura Vryhof/Demand Media
Add the chopped chiles, tomatoes, broth, vinegar, brown sugar, salt, pepper and cumin to the saucepan and mix well. Simmer the ingredients for 15 to 20 minutes, or until thick.
Laura Vryhof/Demand Media
Transfer the chipotle sauce to a food processor and puree for one to two minutes, or until uniformly smooth. Pour into an airtight container, and place in the refrigerator.
Laura Vryhof/Demand Media
Let the chipotle sauce sit for 16 to 24 hours before using, allowing the flavors to meld. Remove the from the refrigerator and warm to room temperature before serving.
References
Tips
The chipotle sauce can be used immediately after blending if necessary, but will be less flavorful.
Guajillo chiles are dark peppers with thick, leathery skins. They are commonly grown in Mexico, but can be found in well stocked grocery stores and specialty food stores.
Warnings
Never touch your face after handling chiles. The juice can cause irritation if it comes in contact with the eyes, nose or mouth.
Writer Bio
Willow Sidhe is a freelance writer living in the beautiful Hot Springs, AR. She is a certified aromatherapist with a background in herbalism. She has extensive experience gardening, with a specialty in indoor plants and herbs. Sidhe's work has been published on numerous Web sites, including Gardenguides.com.
Photo Credits
Laura Vryhof/Demand Media