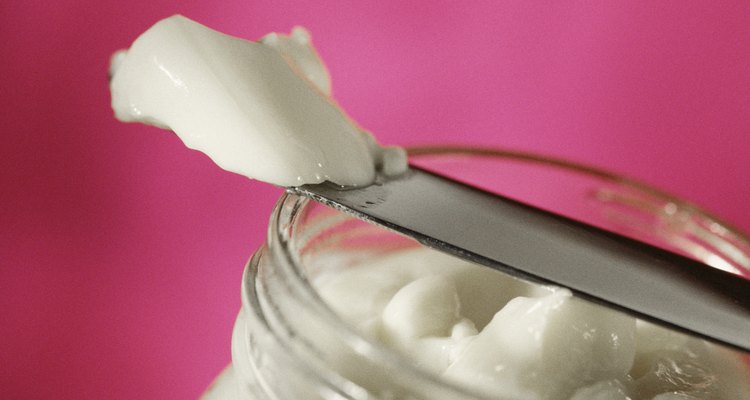 Jupiterimages/liquidlibrary/Getty Images
If you are in the middle of making a salad, dip or even baking a cake and discover you do not have the right amount of sour cream, there is no need to run to the store to finish your recipe. You may equally substitute mayonnaise, sour cream, yogurt or pureed cottage cheese when your recipe calls for one of these ingredients, according to Colorado State University Extension. For example, you may replace 1 cup of mayonnaise for 1 cup of sour cream. In addition, mayonnaise and a couple of other ingredients enable you to make your own sour cream, with a similar taste.
Step 1
Measure equal amounts of heavy cream, mayonnaise and plain yogurt. Place each into the blender.
Step 2
Turn on the blender to medium and mix until well combined. If you do not have a blender, place ingredients into a mixing bowl and whisk until combined. The result will be a creamy, light consistency -- similar to sour cream.
Step 3
Place the finished mixture into a container with a lid. Use equal amounts of this homemade sour cream in place of traditional sour cream in your recipe.
References
Tips
In addition to mayonnaise, yogurt, cottage cheese or the homemade sour cream, other possible substitutions for 1 cup of sour cream include 7/8 cups of buttermilk, 1 cup of evaporated milk with 1 tablespoon of vinegar and 7/8 cups of milk plus 1 tablespoons of lemon juice and 2 tablespoons of butter or margarine.
Warnings
Because mayonnaise does have a different flavor than sour cream, it can affect the flavor of your recipe slightly. Using mayonnaise may increase the moisture content in your batter, resulting in moist cakes. If your cakes or other baked goods turn out too moist, you may need to reduce the amount of mayonnaise or other liquids.
Writer Bio
Deborah Lundin is a professional writer with more than 20 years of experience in the medical field and as a small business owner. She studied medical science and sociology at Northern Illinois University. Her passions and interests include fitness, health, healthy eating, children and pets.
Photo Credits
Jupiterimages/liquidlibrary/Getty Images