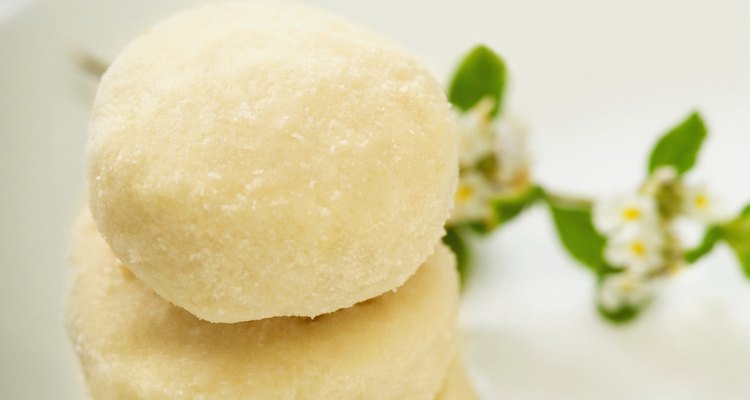 Medioimages/Photodisc/Photodisc/Getty Images
Baking food for vegans or food allergy sufferers can be a challenging transition, but some substitutions are easier than others. One of the simplest is milk. A variety of nondairy milk products are available, made from almonds, soybeans, hemp, rice and other sources. Soy milk is one of the most versatile and readily available, and it can be substituted directly for the milk in your recipes. If your recipe calls for buttermilk or soured milk to help it rise, you can achieve a very similar result with soy milk and lemon juice.
Step 1
Measure out the amount of liquids required by your recipe, substituting unsweetened, unflavored soy milk for dairy milk.
Step 2
Add 1 tablespoon of lemon juice for every cup of soy milk. For example, if your recipe calls for 1 3/4 cup of milk, you'd use 1 3/4 tablespoons of lemon juice.
Step 3
Whisk the lemon juice into your soy milk and let it stand at room temperature for 10 minutes.
Step 4
Add the soured soy milk to your recipe, and continue as directed.
References
On Food and Cooking: The Science and Lore of the Kitchen; Harold McGee
The Joy of Vegan Baking: The Compassionate Cooks' Traditional Treats and Sinful Sweets; Colleen Patrick-Goudreau
Tips
Soy milk is very similar to dairy milk in its protein and fat content, and usually requires no adjustments to the recipe.
Other acidic ingredients such as cream of tartar or white vinegar can also sour the milk and will provide enough acidity to react with the baking soda in the recipe.
In some recipes you can use sweetened or vanilla-flavored soy milk, but you should reduce the sugar or vanilla slightly to compensate.
Writer Bio
Fred Decker is a trained chef and prolific freelance writer. In previous careers, he sold insurance and mutual funds, and was a longtime retailer. He was educated at Memorial University of Newfoundland and the Northern Alberta Institute of Technology. His articles have appeared on numerous home and garden sites including GoneOutdoors, TheNest and eHow.
Photo Credits
Medioimages/Photodisc/Photodisc/Getty Images