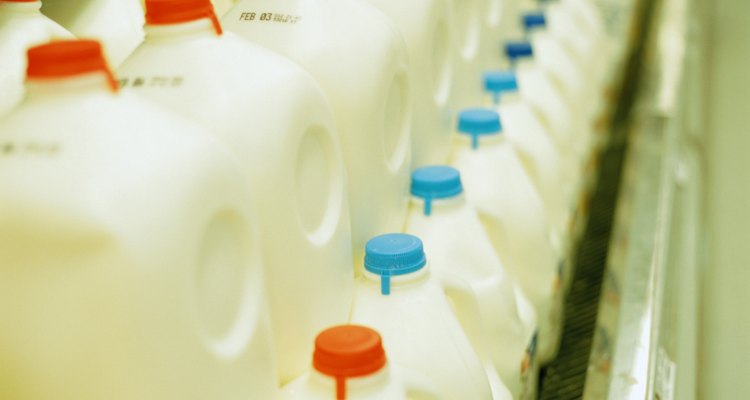 Ryan McVay/Photodisc/Getty Images
If your cream goes sour or your just plain forget to pick up a carton, you can easily whip up a homemade cream substitute with store-bought milk and a little butter. Like off-the-shelf cream, this homemade version adds a smooth and rich texture to dishes ranging from quiche to scrambled eggs. No matter what you're whipping up, stick with whole milk rather than 1- or 2-percent varieties to lend your homemade concoction a richer taste and creamier consistency.
Step 1
Melt the butter or margarine over medium heat in a saucepan. Allow the butter to cool. Use 1/3 cup of butter for every 3/4 cup of milk.
Step 2
Add your milk to the mixing bowl and slowly pour the cooled, liquefied butter into the milk.
Step 3
Whisk the milk and butter together until they're fully blended and feature a smooth, creamy consistency. Use this homemade cream as a substitute for store-bought cream at a one-to-one ratio.
References
Resources
Tips
You can chill your homemade cream before using it, just as you would store-bought cream. If separation occurs, re-mix the milk and butter with a whisk or hand mixer before use.
To make dairy-free homemade cream, use soy or rice milk and dairy-free margarine or extra light olive oil. You can also simply allow a can of full-fat coconut milk to settle and skim off the cream that rises to the top.
To infuse your homemade cream -- or even just regular whole milk -- with additional flavor, mix in a flavoring ingredient and bring the liquid to a simmer, then immediately allow the cream to cool and strain out any remaining solids. Cinnamon sticks, whole coffee beans, cloves and cardamom pods make great flavoring ingredients.
Writer Bio
With a diverse professional background and a decade of experience as a freelance writer, Dan has contributed lifestyle content -- from fashion to travel to fitness and more -- to publishers including Chron, Fortune, Sony, GlobalPost, ModernMom, Moviefone, Salon.com, Techwalla and dozens of others.
Photo Credits
Ryan McVay/Photodisc/Getty Images