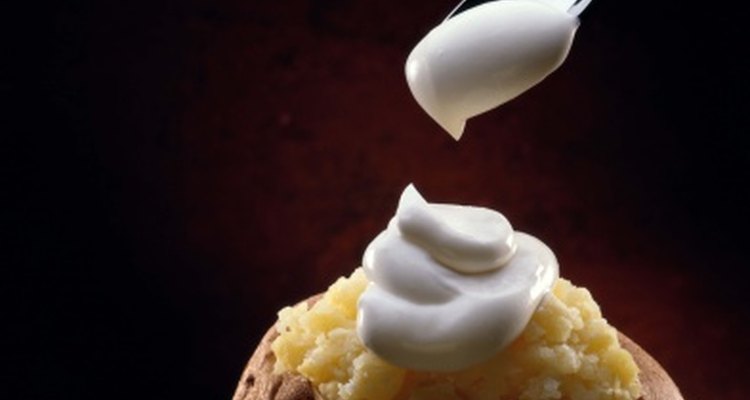 Jupiterimages/Comstock/Getty Images
Although sour cream is a traditional ingredient used in various Russian, Eastern European and German recipes, its use is not limited to only these cuisines. Instead, sour cream lovers the world over enjoy this thick cream as an ingredient in any number of dips and sauces, use it to thicken and flavor sauces, and as a condiment itself. Homemade sour cream contains fresh, natural ingredients and has a taste that is comparable to store-bought brands.
Combine the cream, milk and cultured buttermilk in the glass jar.
Stir the ingredients in the jar thoroughly to mix them.
Cover the jar loosely and allow it to stand at room temperature for approximately 24 hours or until the cream thickens.
Chill the sour cream and mix well before serving.
Store any remaining sour cream in the refrigerator for up to four weeks.
References
Tips
Make your sour cream a day before you plan to serve it to ensure you have enough time for the cream to thicken and cool.
Refrain from adding sour cream to boiling liquids, as it will curdle immediately.
Warnings
You cannot make sour cream out of pasteurized whipping cream; the cream will merely spoil rather than sour.
Writer Bio
Monika Knight began writing in 2005. She wrote material for health topics while she worked at her local Head Start organization. Knight is now a social welfare examiner for the Erie County Department of Social Services. She holds a Bachelor of Arts in health and human services and mental health from State University of New York at Buffalo.
Photo Credits
Jupiterimages/Comstock/Getty Images