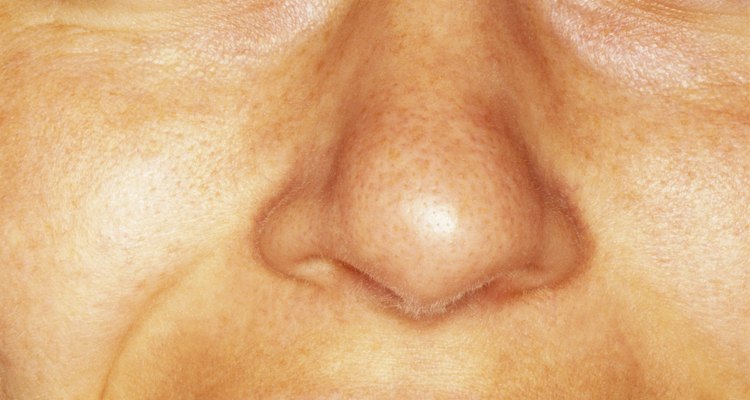 Creatas Images/Creatas/Getty Images
Don't scale back on your outdoor activities just because cold weather has turned your pretty pucker to a pout. Fight the effects of winter weather on your lips by creating a homemade lip remedy from ingredients that can be found right in your kitchen and bathroom. A lip mask with natural ingredients -- including antioxidants and essential oils -- can quickly turn your scaly lips into a mountain of moisture. Apply your lip mask as needed and it'll be smooth sailing for you and your rough lips.
Step 1
Pour 1 tablespoon honey into the bowl.
Step 2
Puncture a vitamin-E capsule with the tip of a sharp knife and squeeze the contents into the bowl.
Step 3
Add 1 tablespoon of lemon juice into the mixture. Stir ingredients together.
Step 4
Drop in five drops of lavender oil and five drops of almond oil. Mix ingredients again using your spoon to form the lip balm.
Step 5
Scoop the remainder into a small, airtight storage container. Keep it in the refrigerator for up to six months.
References
Tips
To use, dip a cotton swab into the lip balm. Generously spread the mask onto your lips. Refrain from pressing your lips together. Let it sit for at least 30 minutes before wiping it off with a clean, soft cloth.
For best results, sleep with the lip balm in place.
Sleep with a humidifier -- the moisture will help replenish your lips.
Drink plenty of water during the day to help keep lips moisturized.
Writer Bio
Based in Los Angeles, Lisa Finn has been writing professionally for 20 years. Her print and online articles appear in magazines and websites such as "Spa Magazine," "L.A. Parent," "Business," the Famous Footwear blog and many others. She also ghostwrites for mompreneurs and business owners who appear regularly on shows such as Ricki Lake, HGTV, Carson Daly and The Today Show.
Photo Credits
Creatas Images/Creatas/Getty Images