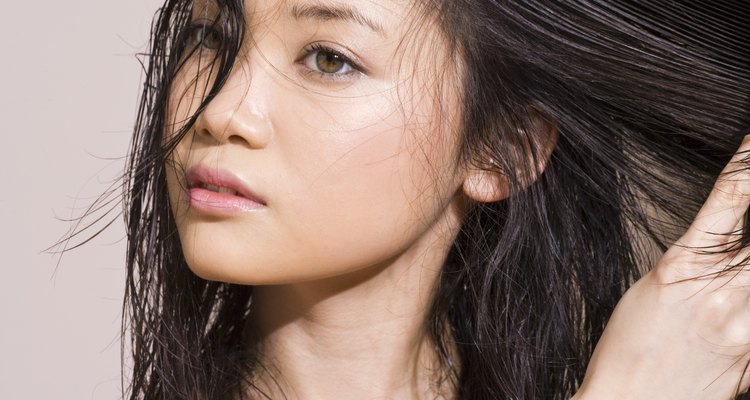 Jupiterimages/Pixland/Getty Images
Pomade gives you the holding power of hairspray without the sticky, crunchy residue. With a dab of pomade, you can give your hair texture or shape loose locks into a whole new style. Many store-bought pomades work well, but they also contain chemical ingredients, such as artificial color and fragrance. If you'd prefer to put something more natural on your hair, try whipping up a batch of coconut oil pomade.
Step 1
Fill a saucepan about halfway with water. Set a heat-proof mixing bowl on top of the pan.The bowl should be large enough to fit snugly within the rim of the saucepan and just above the water.
Step 2
Add 8 teaspoons of coconut oil and 2 tablespoons grated beeswax to the heat-proof bowl.
Step 3
Place the saucepan and bowl on the stove. Set the temperature to the lowest setting.
Step 4
Stir the beeswax and coconut oil together as the ingredients begin to melt. Continue stirring until both have melted completely.
Step 5
Remove the saucepan from the heat and allow the coconut-beeswax mixture to cool completely. If you're in a hurry, put the mixture in the refrigerator to speed up cooling.
Step 6
Put the coconut-beeswax mixture in a blender. Add 2 tablespoons of vegetable glycerin.
Step 7
Add up to 1/8 teaspoon mica, if desired. Mica will give the pomade a subtle shimmer.
Step 8
Mix in a few drops of essential oil for fragrance, if desired. Use your favorite scent, such as lavender, rosemary, jasmine or sweet orange.
Step 9
Blend the coconut oil, beeswax, glycerin and essential oil together at low speed. Keep blending until the ingredients have fully incorporated and the mixture has a smooth texture.
Step 10
Pour the pomade into a container and seal it with a lid. Store your pomade in a cool place until you're ready to use.
References
Resources
Tips
To use your pomade, put a small amount in the palm of your hand. Rub your palms together, then smooth the pomade through your hair.
If your pomade is too runny, put it back on low heat on the stove, and add a small amount of beeswax until the pomade is as thick as you want. If the pomade is too hard, warm it up on low heat, then slowly add a drizzle of coconut or olive oil until it's as soft as desired.
To make a tinted pomade, add a pinch of yellow or brown oxide after melting the coconut oil and beeswax. Use yellow oxide if you're blonde. For darker hair shades, use brown oxide.
Writer Bio
Melissa King began writing in 2001. She spent three years writing for her local newspaper, "The Colt," writing editorials, news stories, product reviews and entertainment pieces. She is also the owner and operator of Howbert Freelance Writing. King holds an Associate of Arts in communications from Tarrant County College.
Photo Credits
Jupiterimages/Pixland/Getty Images