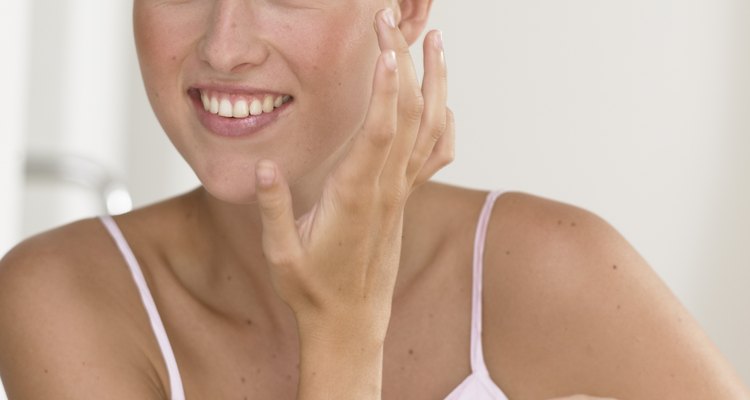 Pixland/Pixland/Getty Images
Getting a facial is a relaxing way to give your skin a treat, but the indulgence can cost a fortune at some fancy salons. Thankfully, you don't need to break the bank to show your face some love. Instead, save a few bucks by making your own cucumber and sugar facial scrub. You'll also avoid artificial ingredients by using all-natural food products in your blend. The cucumber soothes and cools your face, while the sugar gently exfoliates your skin, giving it a healthy glow.
Step 1
Chop a cucumber into small chunks with a knife. Put the cucumber pieces into a food processor and blend until a smooth puree forms. If desired, add 2 tablespoons of fresh mint leaves or a few small pieces of melon to the processor. Blend until all ingredients are fully combined.
Step 2
Pour 2 1/2 cups of granulated white sugar, cane sugar or brown sugar into a bowl.
Step 3
Drizzle 4 tablespoons of extra-virgin olive oil over the sugar. If you don't like or have olive oil, you can use any other kind. Try sesame, almond or safflower oil.
Step 4
Stir the sugar and the oil together until a thick paste forms. Add the cucumber puree and mix well.
Step 5
Add a bit more oil if the scrub is too thick. If it's too runny, add some more sugar.
Step 6
Pour the mixture into a container and cover with a lid. Use the scrub immediately, or store it in the refrigerator.
References
Tips
If you have acne, add a few witch hazel leaves to your scrub. Witch hazel may soothe swelling and dry out pimples.
If you do not have a food processor, a blender will also work.
Warnings
This scrub contains cucumber, which will eventually go bad even when stored in the refrigerator. If the scrub develops a bad smell or unusual color, discard it and make a fresh batch.
Writer Bio
Melissa King began writing in 2001. She spent three years writing for her local newspaper, "The Colt," writing editorials, news stories, product reviews and entertainment pieces. She is also the owner and operator of Howbert Freelance Writing. King holds an Associate of Arts in communications from Tarrant County College.
Photo Credits
Pixland/Pixland/Getty Images