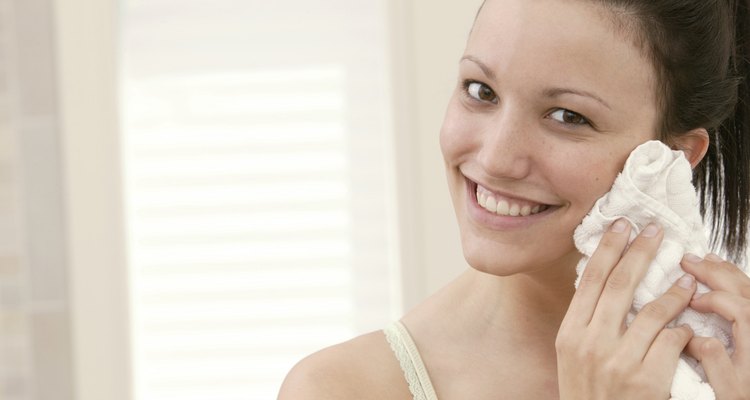 Comstock Images/Stockbyte/Getty Images
When your face is starting to flake, peel or look downright dry, skip the store-bought exfoliant and make one at home using Dead Sea salt. Extracted from the Dead Sea in the Jordan Valley, this salt is high in mineral content, making it exceptionally moisturizing for your skin -- it also exfoliates the flakes of skin and deep cleans your pores. So when your face is craving moisture and you can't bear to look at those scaly patches another day, throw together a quick, facial-exfoliating scrub using this healthful salt.
Step 1
Pour 1 cup of Dead Sea salt into a clean jar. Add five to ten drops of your favorite essential oil. Orange, jasmine, tea tree, lavender and peppermint are all good choices for a scrub. Screw the lid on the jar and shake well.
Step 2
Unscrew the lid and add 1/2 cup of sweet almond, olive or jojoba oil to the mixture. Use a spoon to stir up the salt and oil well.
Step 3
Screw the lid back on the jar and leave closed until use.
References
Tips
To use, scoop a dollop of the mixture from the jar and massage it gently onto your damp face. Rub the scrub over the skin using a circular motion. Rinse the scrub from your face with warm water. Pat your skin dry and apply moisturizer.
Store any leftover scrub in the jar with the lid secured tightly.
Warnings
Avoid getting the face scrub in or near your eyes. The salt and essential oils can cause burning or irritation to your eyes.
Writer Bio
Kimbry Parker has been writing since 1998 and has published content on various websites. Parker has experience writing on a variety of topics such as health, parenting, home improvement and decorating. She is a graduate of Purdue University with a Bachelor of Arts in organizational communication.
Photo Credits
Comstock Images/Stockbyte/Getty Images