Open pores, also known as enlarged pores, are caused by excess oil secreting from the pores, which tends to block and expand the pores. Contributing factors that can cause open pores include aging, genetics, sun damage, lack of sleep, hormonal changes, improper diet, make-up and puberty. You can minimize the pore size with a proper skin care routine and maintenance. Improper cleansing can lead open pores to blackheads, whiteheads and acne.
Proper Skin Care
Remove any make-up from your face. If you're wearing make-up, clean away make-up with a make-up remover.
Wash your skin with deep cleanser every day. Use a cleanser that is designed for oily or combination skin. Work up a lather on the face and rinse with warm water.
Exfoliate your face two times a week. Exfoliate the skin with a gentle scrub to remove dead skin cells and promote new cell rejuvenation. Scrubbing every day can irritate the skin.
Wipe away dirt and oil with an astringent. Dip a cotton ball in a non-alcoholic astringent and wipe around the skin in a circular motion. Astringent helps remove excess dirt and oil that the cleanser left behind.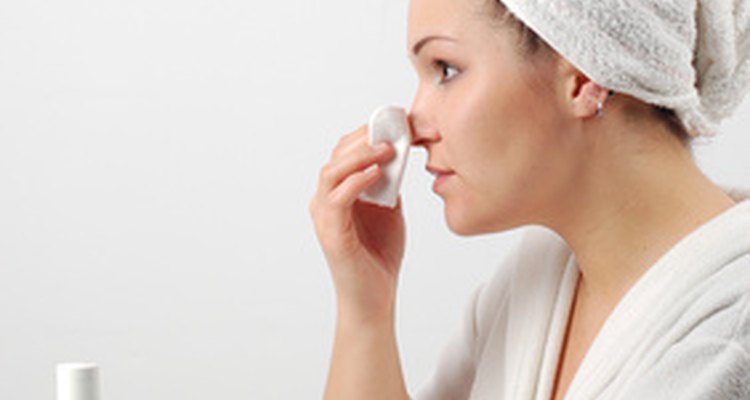 Moisturize the skin. Apply an oil-free moisturizer with SPF to soften the skin and protect your face from UV rays.
References
Writer Bio
Since 2000 Yvette Bigornia has been a writer specializing in internal communications, including newsletters, e-mail blasts and Intranet sites. She also holds certifications for copy-editing through MediaBistro, for public relations and copywriting through The Business Writing Center and for multimedia design through The Anthem Institute. Bigornia holds a Bachelor of Arts in visual arts from Rutgers University.
Photo Credits