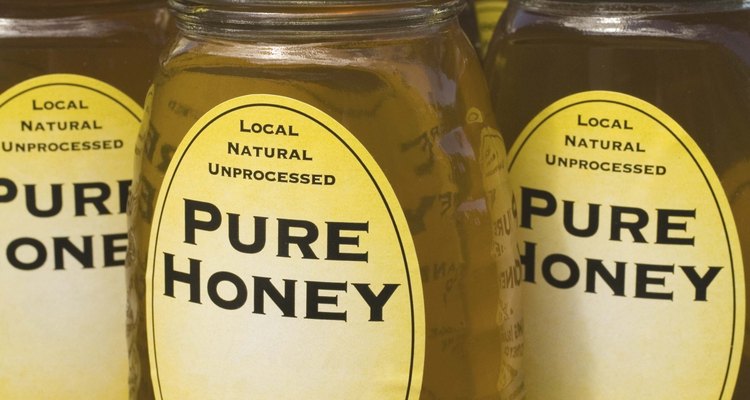 Jupiterimages/Stockbyte/Getty Images
Honey isn't only good as a tasty condiment -- the sticky stuff is packed with skin-loving benefits. Combine a dollop of honey with white or brown sugar, and you'll have a moisturizing scrub that rivals anything you can buy at a spa. Other nourishing ingredients, such as oils, make the scrub feel even more luxurious.
Benefits of Honey and Sugar
Honey has antiseptic and antibiotic properties, plus 18 amino acids and an array of vitamins and minerals. Applied topically, it's useful for healing wounds and moisturizing skin. Honey can be used to treat puffy eyes, eczema and acne. Sugar is a soothing ingredient in any body scrub. Sugar's gritty texture works as an exfoliant to gently buff away dead skin and give your face a healthy glow. Table salt, Epsom salt and baking soda also serve as exfoliants.
Oils
Oils, such as olive, sweet almond and coconut oil, add skin-soothing moisturizing properties to a scrub. These oils serve as a binder for sugar scrubs, and as an added bonus, they contain vitamins and minerals. For scent, use a few drops of an essential oil. Lavender oil's scent is relaxing, and Roman chamomile oil has a mild fragrance plus anti-inflammatory properties. Eucalyptus and peppermint oils have energizing aromas.
Honey-Sugar Scrub Recipe
To make your own scrub, add 4 teaspoons of sweet almond, extra-virgin olive or a similar vegetable oil to a small bowl. Add 1/2 cup of white or brown sugar. Add 1 tablespoon of honey and one finely chopped mint leaf. Massage 1 or 2 tablespoons of the scrub into your skin when you're in the shower and rinse off with warm water. Refrigerate leftover scrub for up to one week.
References
Resources
Writer Bio
Melissa King began writing in 2001. She spent three years writing for her local newspaper, "The Colt," writing editorials, news stories, product reviews and entertainment pieces. She is also the owner and operator of Howbert Freelance Writing. King holds an Associate of Arts in communications from Tarrant County College.
Photo Credits
Jupiterimages/Stockbyte/Getty Images