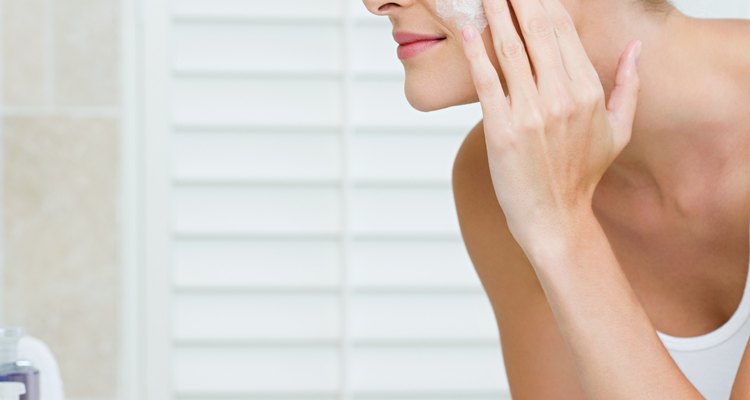 Image Source/Photodisc/Getty Images
Sugar isn't just good for baking or adding some sweetness to your morning cup of coffee. This kitchen staple can also be used to make a facial scrub. Sugar is slightly abrasive, so it works well for scrubbing off dead and dry skin on the face. When combined with a moisturizing agent, you'll not only remove the gunk from your skin, but also hydrate your skin in the process.
Moisturizing Scrub
Glycerin is a humectant, which means it not only helps your skin retain moisture, it attracts moisture. So combining glycerin and sugar for a facial scrub sloughs off the dead skin while adding moisture at the same time. To make a glycerin and sugar facial scrub, mix equal parts white sugar and vegetable glycerin in a bowl. Add a few drops of aloe vera gel and two drops of your favorite essential oil if you want to give the scrub a pleasant scent. Wet your skin with water and then scrub your face with the mixture. Leave it on for a few minutes and then rinse with cool water. You can buy glycerin at most pharmacies and drug stores.
Anti-Bacterial Scrub
Like glycerin, honey is a humectant. It also contains anti-bacterial properties to help get rid of bacteria on your skin that can cause acne and other facial imperfections. Mix 1 cup of brown sugar, 1/2 cup of honey and 1 tablespoon of whole milk in a bowl. Dab the mixture onto your dry face and scrub gently. If you have time, leave it on your skin for 10 to 20 minutes before rinsing it off. Rinse with cool water. You may need to use a wet washcloth to remove all the mixture, as it will be quite sticky from the combination of the honey and sugar. Store any remaining scrub in an airtight container in the refrigerator.
Toning Scrub
Lemon juice has mild bleaching agents, so it lightens age spots on the skin. It also helps to tighten the skin and make it soft and supple. Mix lemon juice with sugar, and you have an exfoliating scrub that tones your face while it exfoliates. To make this scrub, mix equal parts white sugar and lemon juice. It's best to use freshly squeezed lemon juice, but if you don't have it, the bottled kind will do. Mix the sugar and lemon juice to create a paste. Apply the mixture to your face and scrub your face with your fingertips. Leave it on for 10 minutes and then rinse with cool water.
Exfoliating Tips
Since sugar is an exfoliant, it's important to use a sugar facial scrub properly so the skin doesn't become irritated. Start using a sugar facial scrub once a week. Then, if your skin tolerates it well, use the scrub up to three times per week. After exfoliating with a sugar facial scrub, pat your skin dry with a soft towel and apply moisturizer. Pay attention to your skin; if you notice your face become red, inflamed or irritated, stop using the scrub immediately.
References
Tips
Store any remaining scrub in an airtight container.
Add spices and essential oils to the scrub recipes to find a combination you enjoy.
Warnings
Test the scrub on a small portion of your skin first, and immediately stop using the scrub if you notice a skin reaction.
Writer Bio
Kimbry Parker has been writing since 1998 and has published content on various websites. Parker has experience writing on a variety of topics such as health, parenting, home improvement and decorating. She is a graduate of Purdue University with a Bachelor of Arts in organizational communication.
Photo Credits
Image Source/Photodisc/Getty Images