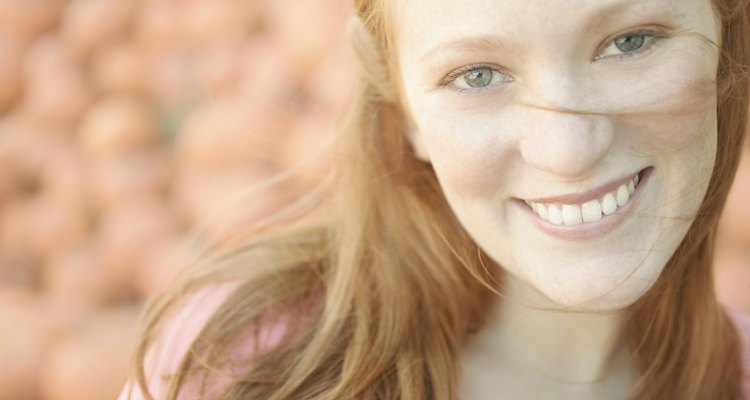 Jack Hollingsworth/Blend Images/Getty Images
When you walk down the skin care aisle of any store, the abundance of products can send your brain into overdrive. Unfortunately, you don't know what's in many of these products and what chemicals you may be putting on your skin. If you prefer to go the natural route when it comes to skin care, use three products that are guaranteed to have no chemicals in them: lemon, sugar and glycerin. All three will fit into your beauty regimen.
Lemon
Lemons are high in calcium, magnesium, potassium and vitamin C, all of which aid in the appearance of healthy skin. From lightening age spots to removing dead skin, lemons can be your skin's best friend. Rub the flesh of a lemon on acne spots and wait 10 minutes before rinsing it off. The antifungal and antibacterial properties are a natural way to treat blackheads and acne. The same remedy can also help lighten acne marks and scars. If your skin is oily, dab it with a cotton ball dipped in lemon juice every night before bed to help keep the oiliness at bay. Make a homemade body and face wash by mixing the juice of a lemon, a dab of plain yogurt and a few drops of essential oil. Massage it onto your skin to clean off bacteria and dirt while adding moisture at the same time. If your feet are in need of a pick-me-up, soak them in a mixture of 1 cup of lemon juice, 1/4 cup milk and 2 tablespoons olive oil, along with enough water to cover your feet, for about 15 minutes.
Sugar
Sugar is a natural product used in skin care because it's a humectant -- it attracts moisture into the skin. It also contains glycolic acid, which encourages new cell growth to give skin a fresher, younger appearance. Because it's a bit coarse, sugar is a natural exfoliant. Make a sugar body scrub by mixing brown sugar and enough olive oil to make a paste. Add about three drops of essential oil if you want to add fragrance. Use the scrub on your body and face to gently exfoliate dead, dry skin. Mixing white sugar and coconut oil in equal parts forms an alternative sugar scrub. Use the sugar body and face scrubs only a couple of times per week; sugar is slightly abrasive and can irritate the skin if overused.
Glycerin
When choosing glycerin for skin care, select vegetable glycerin as opposed to chemically derived glycerin. When you buy glycerin from a pharmacy, it is likely all-natural vegetable glycerin, which comes from plant-based oils. It is a humectant, so it draws moisture to the skin. It is also an emollient that forms a protective oily layer over the skin to trap moisture. Glycerin can be added to your skin care regimen to treat dry, itchy skin, as an exfoliant and as a body wash. Keep glycerin away from sensitive areas like your eyes. Mix up a homemade glycerin cleanser by mixing equal parts cornstarch and glycerin with enough water to thin the mixture. Heat it over a double boiler for a few minutes until it thickens, let it cool completely and use the mixture to scrub your body, including your face. Glycerin can also be mixed with fuller's earth to create a facial mask, or you can add a few drops to your liquid body wash for extra moisture in the shower.
Using All Three Together
Lemons, sugar and glycerin are great alone, but they make for a powerful skin care trio when used in combination with one another. Mix 1/2 teaspoon of sugar with the juice of a fresh lemon to gently exfoliate dead skin. Combine equal parts glycerin and sugar, as well as a few drops of aloe vera gel, to create an invigorating, moisturizing body scrub. Mix all three together -- a little bit of sugar, a splash of lemon juice and a couple of drops of glycerin -- to make a moisturizing, exfoliating facial scrub.
References
Writer Bio
Kimbry Parker has been writing since 1998 and has published content on various websites. Parker has experience writing on a variety of topics such as health, parenting, home improvement and decorating. She is a graduate of Purdue University with a Bachelor of Arts in organizational communication.
Photo Credits
Jack Hollingsworth/Blend Images/Getty Images