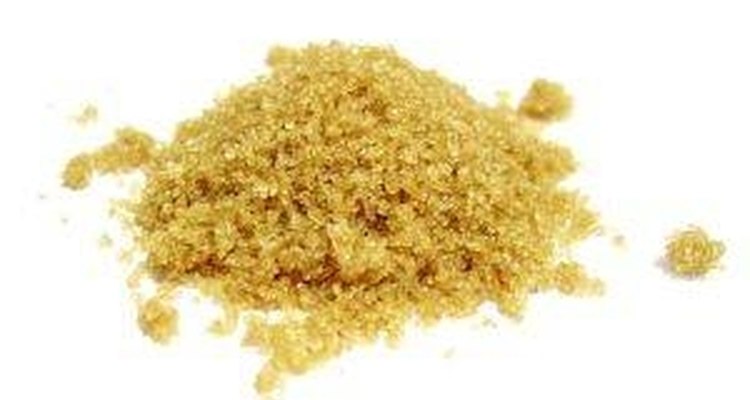 http://www.sxc.hu/index.phtml
Sugar is a natural source of glycolic acid, a powerful antioxidant that can help brighten and rejuvenate the skin. The combination of brown sugar and oats can polish and exfoliate the skin by removing dry, dead skin cells. Adding these ingredients to an unscented body wash creates a powerful sugar soap that can be used daily to cleanse and soften the skin, while the almond oil helps to seal in moisture.
Combine the brown sugar and almond oil in a bowl and blend with a hand-held mixer. Blending instead of mixing will give your sugar soap a luxuriously, creamy texture.
Add the liquid body wash, oats and vanilla extract to the blended brown sugar and almond oil. Whip all of the ingredients thoroughly together until they become creamy in texture.
Transfer the sugar soap mixture to a plastic container, using a rubber spatula. The container should have a secure lid to keep the sugar soap fresh and free of contaminates.
Remove a small amount of the sugar soap from the container and apply to a shower puff. Lather, wash and exfoliate your skin with the puff and follow up with a cool rinse.
Store the sugar soap in the container, inside your refrigerator. You can store your sugar soap for up to 2 weeks. After that, discard it and blend up a new batch.
Resources
Tips
A variation of the sugar soap recipe can be made by combining one cup of white sugar, ½ cup of honey, 1 tablespoon of green tea and 1 teaspoon of vanilla extract. The ingredients can be blended with the hand blender and stored in the refrigerator, as well. The green tea sugar soap exfoliates and softens the skin.
Warnings
The oats are very beneficial to the skin, but if you find them to be too abrasive in the sugar soap, you can grind them up before adding them to the sugar soap recipe. If the oats are still too irritating to the skin, eliminate them from the recipe.
Writer Bio
Jonae Fredericks started writing in 2007. She also has a background as a licensed cosmetologist and certified skin-care specialist. Jonae Fredericks is a certified paraeducator, presently working in the public education system.
Photo Credits
http://www.sxc.hu/index.phtml