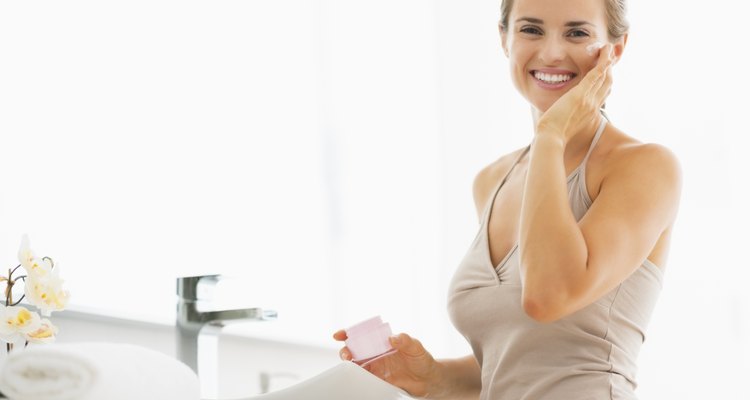 Alliance/iStock/Getty Images
Since its introduction in the mid-1800s, people have used Vaseline -- or petroleum jelly -- for everything from shining shoes to unsticking gum from desks. As a lotion, this versatile goop forms a barrier on the skin, helping it retain moisture and ward off bacteria. For a heavy-duty, DIY moisturizer, pair Vaseline with beeswax, which also creates a barrier effect. Unlike other moisturizers, beeswax and petroleum jelly don't contain fragrances, so they're less likely to irritate sensitive skin.
Heat a double boiler and combine equal parts Vaseline or generic petroleum jelly and beeswax. While petroleum jelly firms the skin, beeswax serves as a thickening agent, encourages skin cell turnover, and has antibacterial and humectant properties.
Stir the beeswax and Vaseline gently with a metal spoon as they slowly melt together. Add glycerin, for consistency, as well as almond oil and honey in equal parts to the jelly and beeswax. Almond oil softens the skin and offers skin-bolstering protein, while honey moisturizes.
Continue stirring and add a bit of pollen and liquid lecithin to the mix; use about 1 spoonful of pollen and 2 spoons of lecithin per 1/4 cup of the other ingredients. Lecithin emulsifies and moisturizes, while pollen nourishes the skin with protein, minerals and vitamin C. Stir, in total, for about 4 or 5 minutes until the mixture is smooth, then allow it to cool and store it in a sealed container. For fragrance, simply mix in a few drops of the essential oil of your choice.
References
Writer Bio
With a diverse professional background and a decade of experience as a freelance writer, Dan has contributed lifestyle content -- from fashion to travel to fitness and more -- to publishers including Chron, Fortune, Sony, GlobalPost, ModernMom, Moviefone, Salon.com, Techwalla and dozens of others.
Photo Credits
Alliance/iStock/Getty Images